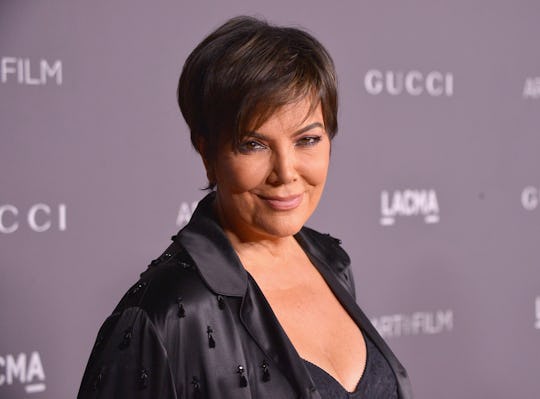 Charley Gallay/Getty Images Entertainment/Getty Images
Here's How Many Grandkids Kris Jenner Has — For Now
With an apparent baby boom going on in the family, it can be difficult to "keep up" with Kris Jenner's continually growing number of grandchildren. The matriarch of the Kardashian-Jenner brood first became a grandma when her eldest child, Kourtney gave birth to Mason Dissick on Dec. 14, 2009. Since then, two more of Jenner's six children have added grandbabies to the mix. But how many grandkids does Kris Jenner have in total? Honestly, the true number is still up in the air.
To start, let's take a look at the Keeping Up with the Kardashians family tree, shall we? According to The Los Angeles, here is the line-up of Jenner's children: Kourtney Kardashian (1979), Kim Kardashian (1980), Khloe Kardashian (1984), Rob Kardashian (1987), Kendall Jenner (1995) and Kylie Jenner (1997). Jenner also had a stepson, Brody Jenner, when she was married to Caitlyn (formerly Bruce) Jenner. So just to make sure we don't leave anyone out, I'm going to tackle Kris Jenner's grandchildren by birth order of her children.
The Sun reports that Kourtney Kardashian currently has three children with her ex Scott Disick. There's Mason, 7, Penelope, 5 and Reign, 2. However, in a season premiere of Keeping Up with the Kardashians, Kourtney revealed that she would consider a fourth child with Disick, reports the Daily Mail. She said on the show: 'I feel like I would [have another baby with him] if the situation was right.' Awkward. You know, especially since Kourtney is currently dating boxer Younes Bendjima.
After Kourtney, Kim is next in the lineup. Although Kim Kardashian and Kanye West have two children together — North, 4, and Saint, 2 — they will soon add another little girl into the mix via surrogate, reports People. Given Kim's history of difficult pregnancies (including a dangerous condition called placenta accreta,) the family didn't want to risk her life with another pregnancy.
Khloe Kardashian does not currently have any children, and although pregnancy rumors have been rampant since September, she still has not confirmed or denied anything. Allegedly, though, Khloe and her boyfriend Tristan Thompson of the Cleveland Cavaliers will soon be welcoming a baby boy, reports Us Weekly.
Which brings us to Kardashian child number four, Robert Kardashian. Rob has one child — a 1-year-old daughter named Dream — with his ex, Blac Chyna. Kardashian and Chyna's tumultuous relationship ended when Dream was an infant, and a messy custody battle ensued. As of September, the couple now has shared custody of their daughter, reports People. However, Chyna is in the process of suing Kim Kardashian for defamation, according to Us Weekly.
Kris Jenner's fifth child is Kendall Jenner. The fashion model daughter of Kris and Caitlyn Jenner (who are now divorced) has no children currently. Us Weekly reports Kendall is dating professional basketball player Blake Griffin, who plays with the Los Angeles Clippers.
And last, but certainly not least, there's the youngest of the Kardashian-Jenner brood, Kylie Jenner. Right before reports emerged of her sister, Khloe, being pregnant, Kylie nearly broke the internet with rumors of her own. Allegedly, Kylie is expecting a baby girl with her hip-hop airist boyfriend, Travis Scott, and is due in February 2018, reports People.
And that's everyone! Let's tally up the grandkids ... There's: Mason, Penelope, Reign, North, Saint and Dream. Officially, Kris Jenner has six grandchildren. However, since it has been confirmed that Kim and Kanye are expecting baby number three via surrogate, it's technically six grandchildren and one on the way. Except, there could very well be two more on the way — making it "six grandchildren and one on the way, but most likely three on the way." See, it's complicated. However you want to look at it, Kris Jenner's grandkid count is on the rise — and it very well go from six to nine in a matter of months.
Check out Romper's new video series, Romper's Doula Diaries:
Watch full episodes of Romper's Doula Diaries on Facebook Watch.