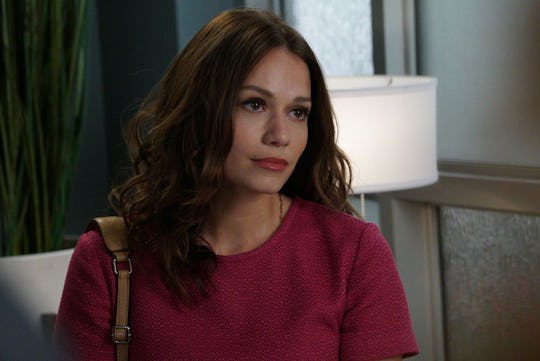 Richard Cartwright/ABC
Viewers Haven't Seen The Last Of Jenny On 'Grey's Anatomy'
During the midseason premiere of Grey's Anatomy last week, a new character was introduced and she may have looked familiar to many. As was shown in the midseason finale, Jo's abusive husband, Paul Stadler, arrived at Grey Sloan Memorial Hospital, but he also came with his new fiancée, Jenny, played by One Tree Hill alum Bethany Joy Lenz. Now many fans are wondering how many Grey's Anatomy episodes will Lenz be in?
Unfortunately, there isn't a clear answer. When it was first announced Lenz would be coming to Grey's, it was only revealed that she would have a recurring role, but it didn't specify for how long. That information, as well as why she would be on the show, was kept under wraps. Obviously, now fans know who she's playing, but it still hasn't been revealed how long she'll be sticking around. That being said, she'll be in Seattle for at least two episodes since Jenny will be back for sure this week.
At the end of last week's episode, Paul returned to the hospital, not to threaten Jo again like he did when he found she spoke to Jenny about him, but on a stretcher. Apparently he'd been involved in a hit and run, and now the police are looking for who did it. Naturally Jo and Alex will become the prime suspects.
During last week's episode, Jo even told Alex and Meredith she wished Paul was dead, but based on this week's promo, both Jo and Alex claim they had nothing to do with Paul's hit and run. But even though Meredith believes them, the police probably won't. Jenny is seen speaking to the cops in the hospital, and she probably suspects Jo did it as well, unless she did it herself and will try to pin it on Jo instead.
Although Jenny wasn't all that receptive to Jo's warnings about Paul and his abusive behavior, it's totally possible she just didn't want to make Paul mad and thus pretended she didn't believe what was being said about him. However, maybe Paul tried to hurt Jenny after they left the hospital and she decided to retaliate by running him down with her car. Still, if that's true, one has to wonder why she's at the hospital talking to the police instead of on the run.
Whether Jenny did it or not, the fact that she's in the preview proves Lenz is sticking around at least for one more episode. No matter how this situation plays out with Paul, this will probably be her last episode though. If she is guilty of running over Paul, she'll be on her way to jail. If she's not and Paul dies, it's unlikely she'll stick around the hospital, especially since it doesn't seem like she's a doctor, which is surprising since pretty much everyone on Grey's is.
However, you never really know. Perhaps there's some bigger storyline coming down the pipeline for Jenny. I, for one, wouldn't mind seeing more of Lenz on my TV screen and she's been doing a great job in the role thus far. If she does stick around for a few more episodes it'll be interesting to see if Jenny admits that Paul has been hurting her and if she and Jo become friends. That'll probably all depend on who really hit Paul and if he survives or not though. Jenny wasn't ready to leave him before, but will she want to leave him now that he's been injured?
You can find out Paul's fate and what this means for Jenny, Jo, and Alex in Thursday's episode of Grey's Anatomy, which airs at 8 p.m. EST on ABC.
Check out Romper's new video series, Romper's Doula Diaries:
Watch full episodes of Romper's Doula Diaries on Facebook Watch.