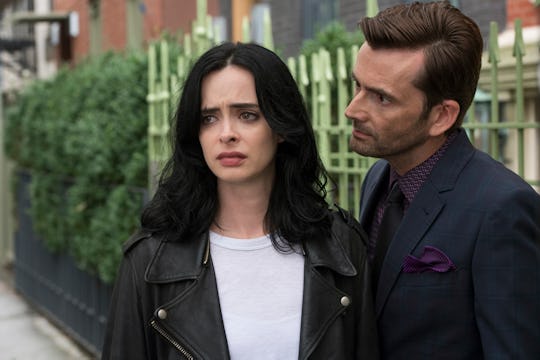 David Giesbrecht/Netflix
Kilgrave's Return To 'Jessica Jones' Season 2 May Not Be For As Long As You Want It To Be
The new season of Jessica Jones will include the return of a familiar face. Although Jessica defeated the mind-controlling Kilgrave at the end of Season 1, it appears the villain is back for round two. So how many Jessica Jones Season 2 episodes is Kilgrave in? Marvel and Netflix are keeping all that information under wraps.
It was announced last year that Kilgrave would be returning for Season 2, though the show creators and cast have been pretty tight lipped about what this return means. Last fans saw, Jessica had killed him so how could this monstrous villain be back? Of course, there are a number of ways. Jessica could still be suffering from PTSD or perhaps his appearance comes via flashbacks Then again, some may think it could mean Kilgrave is somehow still alive. This is Marvel after all. Whatever the reason for his return, most fans are excited about it, though, regardless of if he only ends up coming back for one or two episodes.
Although Kilgrave was a horrible person and did atrocious things, David Tennant, who played the memorable character, did such a fantastic job you can't help but want more. Even Krysten Ritter, who plays Jessica, admitted to being happy about having him back. "Having David back on set was amazing. We had such a great run the first season, and it felt like a celebration, having him back," Ritter told Entertainment Weekly. "The content is maybe not much of a celebration, but having him be present and spending time with him on a personal level kind of felt like one."
Showrunner Melissa Rosenberg also added that, unfortunately, Kilgrave is actually a big part of Jessica's "construction and her dilemma." Thus, Rosenberg felt "having him come back and be that mirror again is really important."
But why does Kilgrave come back and how? Well, fans will just have to watch and see, because the cast and crew aren't spilling any details. In an interview with The Hollywood Reporter, Ritter even said she'd recently gotten a memo that said she wasn't allowed to talk about Kilgrave's return. All she did say was, "I can say that he's back, and I can also say that it's probably not a good thing. Stay tuned."
Well that's certainly ominous, but anything that has to do with Kilgrave usually is. Hopefully, no matter what manner Kilgrave makes his return in (or for how long), Jessica will able to defeat him once again, and hopefully for the last time. But Kilgrave isn't the only enemy she'll be up against this season. While Kilgrave was the main villain of Season 1, Season 2 will see Jessica looking deeper into her past, discovering what led her to have superpowers in the first place.
The search into her past will include an investigation into the mysterious IGH, the company that Dr. Kozlov worked for. If you don't recall, Kozlov was the one who gave Simpson the drugs that made him super strong, but also turned him into a murderer. Whatever IGH is, it's clear the organization played a big role in who Jessica is now, and in order to understand what happened to her Jessica will have to face what happened to her, including the terrible car crash that killed her parents and brother.
So Jessica will be facing a number of her demons this season, but thankfully she has good friends by her side to help. Her adoptive sister, Trish, is still around and in one of the trailers for the new season she even suggests she'll be Jessica's "sidekick." Also working with Jessica, is Malcolm, her neighbor who she helped get clean. With these two having her back, Jessica will be able to face whatever, or whoever, comes her way this season. Even Kilgrave.
Check out Romper's new video series, Romper's Doula Diaries:
Watch full episodes of Romper's Doula Diaries on Facebook Watch.