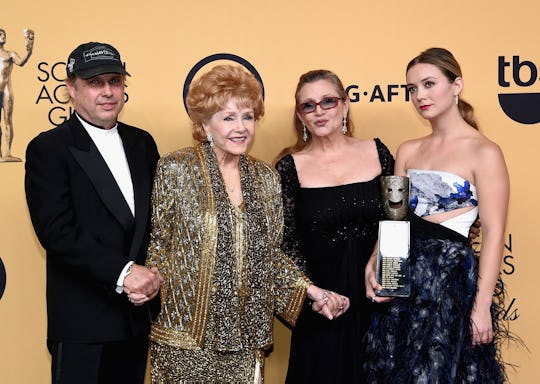 Ethan Miller/Getty Images Entertainment/Getty Images
Debbie Reynolds Was A Mother Of Two Children
Debbie Reynolds had been in the public eye since she was 19-years-old and starred alongside Gene Kelly in the movie musical Singin' In The Rain. After that, her life was never the same — and up until her death at 84-years-old Reynolds continued to work in show business. But Reynolds had a life outside of show business — even though it was still in the public eye. As more people learn about Reynolds' life, they'll want to know: how many kids did Debbie Reynolds have? Debbie Reynolds had two children, and while some might know about her very famous daughter, they might not know about her son.
In the days since her death, it has become a well-known fact that actress Carrie Fisher, who was famous for her honesty about mental health issues and playing Princess Leia in the Star Wars film series, had a famous mother — Debbie Reynolds. While they didn't share a last name, Reynolds and Fisher shared an unbreakable bond that was highly publicized through their successes and their struggles. But Carrie Fisher was not an only child — Debbie Reynolds had a son shortly after giving birth to Carrie. After Reynolds married singer Eddie Fisher in 1955, Reynolds gave birth to Carrie in 1956. And in 1958, Reynolds' second child and only son, Todd Fisher, was born.
Like his famous family members, Todd Fisher is also in show business. Todd is a film producer and director — and is one of the producers on the upcoming documentary about Reynolds and Carrie Fisher — Bright Lights: Starring Debbie Reynolds and Carrie Fisher. The documentary will air on HBO in early 2017. Todd's Twitter shows how busy he is — visiting different film festivals and spending time with friends and family. But it is clear that he was devoted to his mother just like Carrie was to Reynolds — Todd was with his mother figuring out funeral arrangements for his sister when Reynolds fell ill and was rushed to the hospital. Reynolds died shortly after.
Reynolds had three marriages during her lifetime, all of which ended in divorce — which she maintained a humor about. However, Reynolds knew early on that she was destined to be a mother and not a wife, telling The Express in 2015:
My three husbands all left me for another woman and obviously I wasn't a very sexual lady. My husbands all repeatedly said the same thing — that I was not a very passionate woman...it seemed that I was more interested in raising my children, not in pursuing my husbands.
In addition to her son, Reynolds is survived by her only grandchild — Carrie Fisher's daughter Billie Lourd. Lourd is an actress — like her mother and grandmother — and currently stars in the TV series Scream Queens. According to E! Lourd and Reynolds were very close.
Our thoughts are with Todd Fisher and Billie Lourd as they go through this very hard time.