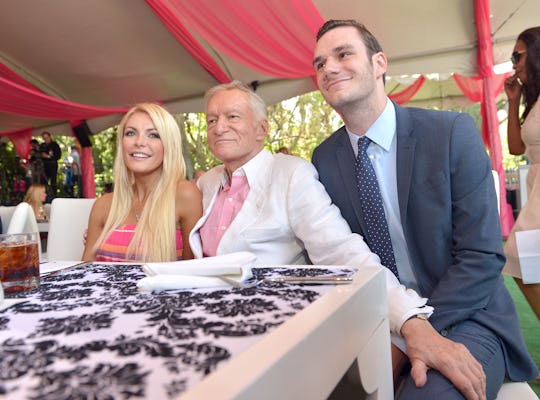 Charley Gallay/Getty Images Entertainment/Getty Images
How Many Kids Did Hugh Hefner Have? He Was Quite The Family Man
On Wednesday, the berobed and slipper-wearing editor-in-chief of Playboy Hugh Hefner died at the age of 91. He leaves behind not just a more than 60-year legacy of titillating photography and fantastic editorial direction since he created Playboy in 1953 — Hefner was also a prolific family man. How many kids did Hugh Hefner have? For all his Playboy lifestyle, Hefner's kids actually outnumber his wives: four children to his three wives. Hefner leaves behind three sons and a daughter, some of whom have already offered tributes to their late father following the announcement of Hefner's death.
Hefner's first two children — daughter Christie in 1952 and son David in 1955 — were with his first wife, Mildred "Millie" Williams. Hefner and Millie were married for 10 years, divorcing four years after his second child was born. His second set of sons — Marston and Cooper — were born when Hefner was married to his second wife, Kimberly Conrad. To put things into an even more astounding perspective: Conrad was just one year older than her older son is now when she became a mom — Hefner himself was an impressive 64 years old when he became a dad three and then four times over. Here's a look at each of Hefner's four children.
Christie Hefner
Hugh Hefner's oldest child is daughter Christie, who worked her way up through her father's company starting in 1975 to eventually become chairman and chief executive officer of Playboy Enterprises for 11 years. She stepped down from the helm of her father's business empire in 2009.
Christie Hefner has been a champion of progressive causes, particularly when it comes to advocating for more women in positions of corporate executive leadership. In an interview with financial news outlet TheStreet, Christie Hefner revealed that she worked tirelessly to bring that same level of executive level of gender equity to Playboy Enterprises:
I was very fortunate because it was even harder for women to get ahead then and so, candidly, I capitalized on that and was able to attract incredibly talented women who felt they couldn't go any further in the companies they were working for. When I left [in January 2009] over 40% of my executives were women.
David Hefner
Hefner's oldest son David is practically a mystery, as he's kept an amazingly low profile despite his father's international renown. It's nearly impossible to even find a photo of him online; the above photo comes from younger brother Marston's Twitter account, taken by Marston — with David pictured on the right, although not named in the caption. Not much more is known about David Hefner other than he is 62 years old and is reportedly an independent film computer graphics specialist.
Marston Hefner
Marston Hefner, pictured left, is Hefner's second son, born in 1990 to the 1989 Playmate of the Year, Kimberly Conrad. According to GQ, Marston Hefner grew up next door to the Playboy Mansion and actually managed to have a relatively normal childhood, all things considered. In 2012, Marston plead "no contest" to charges of abuse against his then-girlfriend, 2011 Playmate of the Year Claire Sinclair, according to The Daily Mail. In his Twitter bio, Marston Hefner describes himself as a writer and gamer.
Cooper Hefner
Hefner's youngest son Cooper was born in 1991, and the 26-year-old is the Chief Creative Officer at Playboy. Cooper is engaged to English actress Scarlett Byrne. Late Wednesday night, Cooper Hefner paid tribute to his late father in a statement, saying:
My father lived an exceptional and impactful life as a media and cultural pioneer and a leading voice behind some of the most significant social and cultural movements of our time in advocating free speech, civil rights and sexual freedom. He defined a lifestyle and ethos that lie at the heart of the Playboy brand, one of the most recognizable and enduring in history.
There's no doubt that Hefner's loss is felt across several industries: Entertainment, photography, and journalism — but the loss is especially painful and personal for his four children. As Cooper shared in his statement, "He will be greatly missed by many, including his wife Crystal, my sister Christie and my brothers David and Marston, and all of us at Playboy Enterprises."
Watch Romper's new video series, Romper's Doula Diaries:
Check out the entire Romper's Doula Diaries series and other videos on Facebook and the Bustle app across Apple TV, Roku, and Amazon Fire TV.