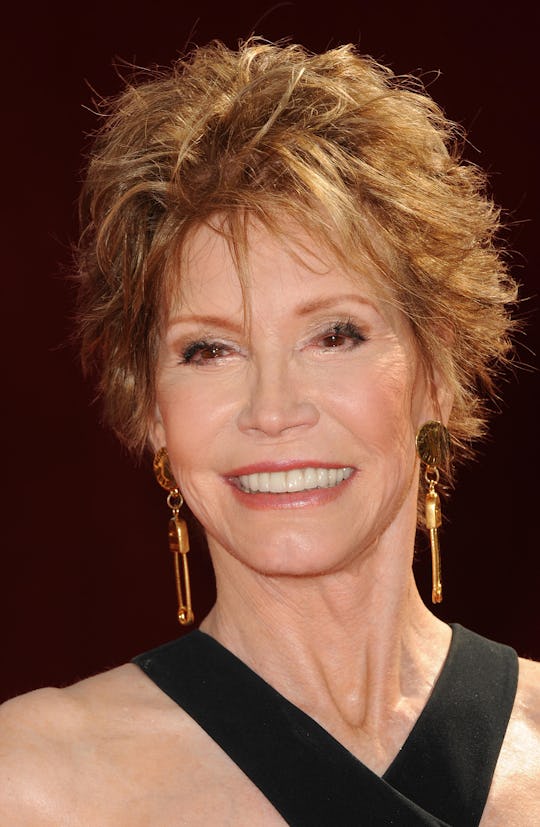 ROBYN BECK/AFP/Getty Images
Remembering Mary Tyler Moore Through Her Kids
News first broke that beloved Mary Tyler Moore was in "grave" condition on January 25, 2017. Shortly after, a rep for the actress confirmed that Mary Tyler Moore died at the age of 80 years old. The legendary Hollywood icon was a household name for those who grew up surrounded by her art, and her memory will of course live on for eons to come. In the wake of her death, the gatekeepers of her memory will live on with the ones who knew her best — but just how many kids did Mary Tyler Moore have? Unfortunately, her son Richie Meeker died in October 1980.
TMZ first reported that Moore, who was best-known for her work on The Dick Van Dyke Show and The Mary Tyler Moore Show was in "grim" condition and that family members were flocking to be at the star's bedside. TMZ notes that Moore had long battled diabetes and even underwent brain surgery in 2011. At this time, the cause of death is still unknown, though TMZ reported that Moore was suffering from a "number" of health problems. A statement provided to Romper from Mara Buxbaum, longtime representative of Moore's, reads:
Today, beloved icon, Mary Tyler Moore, passed away at the age of 80 in the company of friends and her loving husband of over 33 years, Dr. S. Robert Levine. A groundbreaking actress, producer, and passionate advocate for the Juvenile Diabetes Research Foundation, Mary will be remembered as a fearless visionary who turned the world on with her smile.
Though it's incredibly devastating to lose such a figurehead in the Hollywood industry, fans should take solace in the fact that Moore now joins her son in the land where Carrie Fisher, Debbie Reynolds, Prince, George Michael, and so many other icons roam.
Moore's son, Richie, from her marriage to Richard Meeker, Jr. died from an "accidental self-inflicted gunshot wound" at just 24 years old in 1980.
In an excerpt of her book, After All, published with PEOPLE, Moore spoke candidly about her relationship with Richie, adding that after her separation from his father, Richard Meeker, Jr., she wasn't the mother she'd thought she was. "There is no question about it," she said. "By the time Richie was 5, I had already let him down. When he needed me the most, I was busier and even more self-concerned than I had been when he was an impressionable infant."
Moore went on to recount what the moments leading up to, during, and after learning of his accidental death were like. She wrote:
It could not be true. Could he be here for 24 years and then irreversibly cease to exist? My sobs were those of panic. I called a friend to help get me on a plane to Los Angeles. Maybe when the plane landed it would all be different—a mistake. I called Grant back for the details: Richie had been holding a gun. The wound, where? Face. Did he live for any time? Death en route to a hospital.
Moore was also candid about where they laid her only child to rest:
We held the service outdoors, the coffin resting under a vast oak tree. The next day a funeral director brought Richie's ashes to me. His father, Dick, Grant and I, holding the remains of my son close to my belly, boarded a private plane that took us north to Mammoth Airport, where a rental car was waiting. Dick drove us to a place near the Owens River. We walked to a small bridge where father and son had spent some very happy times. Grant and Dick stood together on the bank as I made my way to the bridge.
It was a sunny day. The water was clear and high as I knelt over it. I opened the container and emptied it into the rushing water. What was meant to be a prayer became an outraged demand. 'You take care of him,' I screamed at the sky.
It is an unbelievable burden to be a parent who has lost a child, but I hope there is comfort for Moore and her son. Now they're together, and hopefully they'll get the opportunity they were robbed of so many years ago: to take care of each other.