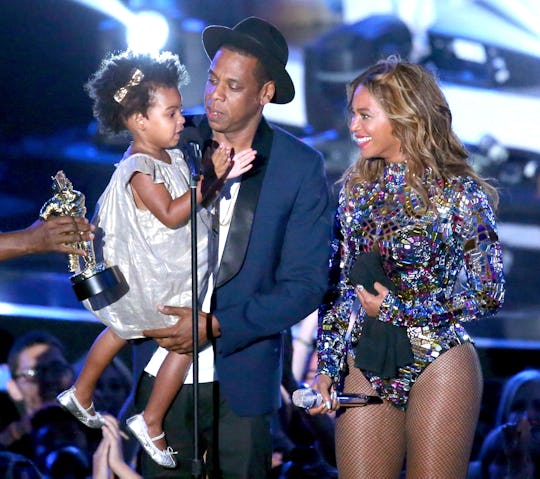 Mark Davis/Getty Images Entertainment/Getty Images
How Many Kids Do Beyonce & Jay Z Want?
When Beyoncé announced her pregnancy on Instagram last week, the world basically stopped. Trump tweets and college protests be damned, Queen Bey having twins has given pop culture junkies something to look forward to and be happy about. Along with Blue Ivy, the twins will bring the number of kids that Bey has with husband Jay Z to three, so her fans have to wonder: how many kids do Beyoncé and Jay Z want to have?
Beyoncé posted a lovely photo of her growing belly bump, which resulted in a chain of criticism: critics who felt Beyoncé's announcement was tacky, then criticism of those critics. Regardless of how you feel about the photos, the joy over being pregnant with twins is what matters most. That joy was best captured in the caption of the photo, which is the most liked picture on Instagram ever. "We have been blessed two times over. We are incredibly grateful that our family will be growing by two, and we thank you for your well wishes."
Though Bey and Jay are both pretty private about their family, each has mentioned that they want more children. Back in 2013, Beyoncé told ABC News that she would "like more children," noting that she didn't want 5-year-old daughter Blue Ivy to be an only child.
"I think my daughter needs some company," she said, according to ABC News. "I definitely love being big sister." In an interview with Vogue, Queen Bey hinted at the number of kids she envisioned having. "When I was younger, there were moments where I said, 'I'm not going to have children," Beyoncé said. "And then moments when I wanted four."
Elle reported that Beyoncé's lucky number is four, which shows up in her birthday, Jay Z's birthday, and the couple's wedding anniversary. And if Beyoncé wants four kids, Jay Z took it a step further when he told Hot 97 he wants "a little basketball team."
But will Beyoncé and Jay Z actually have four kids? That's hard to say. Regardless of how many children Beyoncé and Jay Z's actually want, some took to social media to say they want the couple to have an army of kids.
In the midst of an uncertain political climate, some have even clung to Bey and Jay's kids as their only hope.
...That's not pressure. Some have even cited that they have Beyoncé-induced baby fever, and that they want the same number of kids as she has. Which may not be a good plan if you don't have Beyoncé money, but who am I to judge?
Whether Beyoncé and Jay Z end up having three kids or seven, we know how much they love being parents to their children. And that's all that really matters.