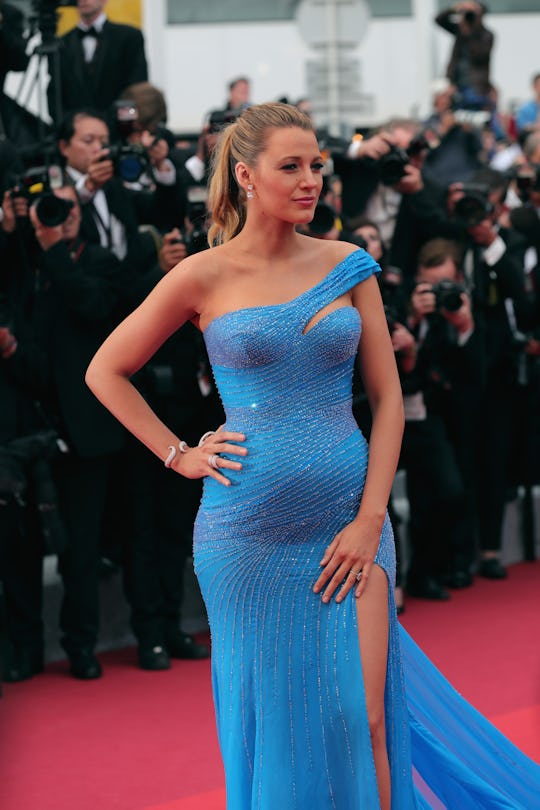 Neilson Barnard/Getty Images Entertainment/Getty Images
How Many Kids Do Blake Lively & Ryan Reynolds Want? A Lot, Apparently
Blake Lively can rock the hell out of a baby bump. The movie star looked amazing this month when she stunned audiences at Cannes Film Festival, looking phenomenal in her dresses. Lively is a proud wife to husband Ryan Re and mother, which makes her super cool in my book. But with all of this buzz about Blake's baby bump, I have to wonder — how many kids do Blake Lively and Ryan Reynolds want?
Judging from interviews, Blake Lively wants a lot of kids. Luckily for her, she already has one and another on the way. Lively is currently mother to 16-month-old daughter James who was born in December 2014. However, Lively and Reynolds have been completely private when it comes to their daughter, being sure not to bring her around paparazzi and only talking about her in interviews. But one thing that Lively has not been private about has been her desire to have more children.
Shortly after her marriage to Ryan Reynolds in 2012, Lively told Allure her plans to have a very large family. "I've always wanted a big family. Oh I'd love 30 [children] if I could," Lively said. And it sounds like she has big plans underway.
Two years later, in 2014, Lively reiterated the fact that she wanted to have a lot of children to Marie Claire. "I gotta get started [having kids.] If I could spit out a litter of kids, I would," Lively told the magazine.
And there is nothing wrong with Lively wanting a big family. I think it is awesome that she is so devoted to having so many kids and at 28 with another one on the way, she has plenty of time to do so.
In January 2015, Lively hinted about expanding her family soon, telling People,
I do want to just enjoy this moment. But I also feel like my first child is going to be the oldest sibling to the next kid, and that may change each and every year. I'm looking forward to how one baby influences the other, and to my family as a whole, every single chapter.
And there could be a reason why Lively thinks this way. She does come from a very large family in Hollywood. Lively's older half-sister Robin Lively, is an actress most known for her role in the 80's film, Teen Witch. Blake's other half-siblings, Lori Lively and Jason Lively have acting credits in different films and TV shows and Blake's brother, Eric Lively, has acted in shows like The L Word and Full House.
Blake's desire to have more children is refreshingly honest and I can not wait to see if she will have more.