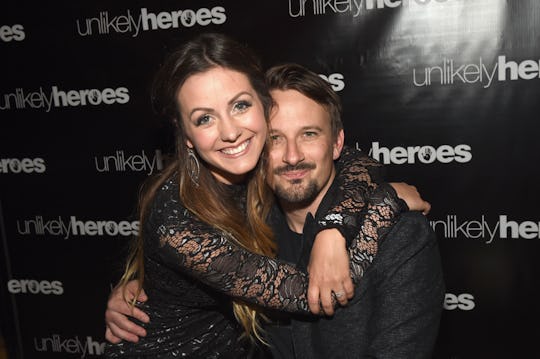 Rick Diamond/Getty Images Entertainment/Getty Images
How Many Kids Do Carly Waddell & Evan Bass Want?
Earlier this month, Bachelor in Paradise stars Carly Waddell and Evan Bass announced they were expecting their first child together. The newlyweds — and their Bachelor fans — can't wait to welcome Baby Bass into the world next year. But will the baby be the only child for the couple? How many kids do Carly Waddell and Evan Bass want? They haven't mentioned if more children are in the future, but the new addition will not be the only tot in the Waddell-Bass family.
Although this is the first baby for Waddell and the Bachelor in Paradise duo, it will be the fourth child for Bass, who has three sons from a previous relationship, according to Entertainment Tonight. Bass will also become a father to his first girl; the couple revealed their child's sex over the weekend, according to People.
According to Us Weekly, Waddell, 31, and Bass, 34, are overjoyed to be welcoming a little one into their blended family. Bass, an erectile dysfunction specialist, told the outlet that his new wife is "a bundle of nerves and excited," and is craving an odd combination of foods, like mashed potatoes and corn.
She's also has intense morning sickness, Bass told Us Weekly,
The positive side of it is she really likes taking naps. She was never a napper before, now she's all about the naps.
Bass also told US Weekly that the couple has received an outpouring of love and support from fans since announcing the pregnancy earlier this month. He said,
Everyday I am getting tweeted at 50 times with people saying, 'I'm losing it. I'm sobbing. I'm crying. This is the sweetest love ever.' ... I feel honored and somewhat like I'm not supposed to be here. I was supposed to go home night 1 on the Bachelorette so to have a wedding it's crazy.
Waddell and Bass's love story is one that defies reality TV odds. According to Life & Style, the pair is one of two couples to stick together from Bachelor in Paradise, the spin-off series staring former Bachelor and Bachelorette cast members (Waddell and Bass appeared on the third season). Waddell and Bass wed in June, in a beach side ceremony in Puerto Vallarta, Mexico, Life & Style reported. Chris Harrison, host of the Bachelor/Bachelorette, officiated the wedding, which was filmed for an ABC special that aired Aug. 15.
Congratulations to Waddell and Bass on their soon-to-be new bundle of joy. Pregnancy is an exciting, nerve-wracking, and interesting time, and they're sure to have their hands full for the next nine months.