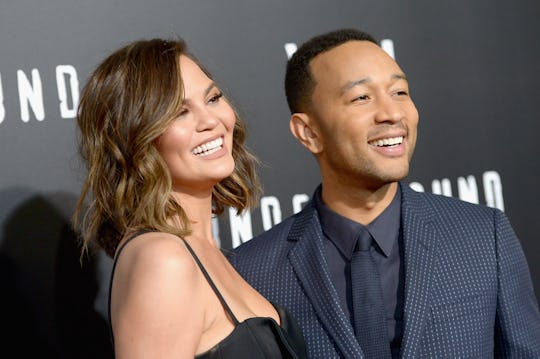 Charley Gallay/Getty Images Entertainment/Getty Images
Now That They're Expecting Baby No. 2, How Many Kids Do Chrissy Teigen & John Legend Want?
One of social media's biggest stars, and legendary clap-back queen is officially expecting her second child, according to an Instagram video shared on Tuesday. So, how many kids do Chrissy Teigen and John Legend want now that their family is expanding? The couple has talked about wanting a big family before, although they're taking it slow for now. And they've been pretty open about their life together, and all that it encompasses. Teigen, for her part, has opened up about her fertility struggles, her battle with postpartum depression, and the difficulties in trying to start a family when both she and her husband are so busy.
Teigen has also talked about her desire for a big family. In fact, just earlier in November, Teigen told E! News that they were trying for another baby (which is obviously true) and that it wouldn't be the end of the line. "I mean hopefully in the next few years because for me I really want to just knock 'em out," she said, according to E! News. "That's my dream, I want to just be pregnant kind of for the rest of my life."
And that's not all she's said about wanting more kids. Because even though she's totally entitled to her privacy on such a personal matter, Teigen is known for not being shy about her life, and that's kind of what makes her so awesome.
She also told E! News in July that she was pretty much constantly thinking about expanding her family. "I probably think about it more than anybody," she said. "I cannot wait to have the biggest family."
Before she and Legend welcomed baby Luna Simone into the world last year, Teigen revealed that she had undergone IVF treatments for her fertility struggles. And it wasn't easy. "I thought, people get pregnant by accident all the time! How does this happen?" she told SELF magazine in 2016 about her struggles to conceive. Then, when the couple decided on IVF, it all started to make sense.
"Emotionally, it could be really hard," she went on to tell SELF. "When you have these high-highs and low-lows, and you're, like, cuckoo pants. You don't want to get your hopes up, but of course, you do." In an October interview with InStyle, Teigen revealed that she and Legend had started off with 20 embryos, but were eventually left with only three viable ones. "The first little girl didn't work, and then the second is Luna," she told the magazine.
Teigen also revealed that the couple would likely have to do another round of egg retrievals in 2016, when she spoke to People. "The number of embryos we have left is not matching the number of people I want at my dinner table, so I'll have to do it again," she told People. "I wish I had frozen my eggs earlier. We have a few more on ice. Who knows what will work?"
Soon after Teigen revealed her recent pregnancy, many were quick to point out that this next baby was likely a boy, as she had previously revealed that a boy embryo was the last one she and Legend had left at the moment.
And Teigen isn't alone in her wishes of a bigger family. Her husband, 38-year-old Grammy winner Legend told Cosmopolitan that he was incredibly fortunate to be able to have his first child with Teigen, daughter Luna, and that he was confident they would have more.
I wouldn't say we can't conceive naturally, but I would say that it's enough of a challenge where it felt like we needed help. We're lucky that we're living in an age where we can conceive in other ways. [IVF] brought us Luna and hopefully, it will bring us a few more awesome kids, too.
So, while the couple is busy getting started on expanding their family by one more, it seems as though it won't be the last time they try to grow their adorable family even more.
Check out Romper's new video series, Romper's Doula Diaries:
Watch full episodes of Romper's Doula Diaries on Facebook Watch.