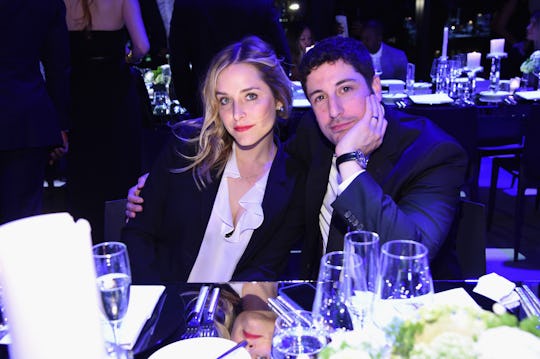 Dimitrios Kambouris/Getty Images Entertainment/Getty Images
Jenny Mollen & Jason Biggs May Have More Kids
Actors Jason Biggs and Jenny Mollen are an incredibly funny couple. The two, who have been married for eight years, continue to make fans laugh in TV shows, movies, and on their social media accounts. In 2014, the couple welcomed their first son, Sid — and just last week, announced that they would be adding a second child to their family. But now, with another on the way, eager fans may be wondering: Just how many kids do Jason Biggs and Jenny Mollen want?
It is incredibly exciting that Biggs and Mollen are adding one more child into the mix. With their first son Sid, Biggs and Mollen documented and shared their fun and honest lives as new parents on social media. The couple typically share hilarious moments and side-splitting exchanges — but just because they're celebrities does not mean that they're afraid to get real.
Since Sid's birth, Biggs and Mollen have been honest about having a miscarriage early on in their relationship — and then after giving birth, honest about how their son has affected their lives.
"That change that happens is so tangible," Biggs said in 2014. "It happens overnight and it's the craziest thing." Mollen agreed with that statement, telling People, "The minute I had Sid, all I wanted to do was be with him." Biggs' and Mollen's comments about being parents are super sweet and show that they're ready for their next child — but could there be more after baby number two? Maybe.
Last July, Mollen revealed to In Touch that she and Biggs were ready to start trying for baby number two and told the magazine how many kids the couple actually want — striking a balance with one another:
Jason wants like, 17 kids, and I would be happy with one, so I think we'll settle on two.
Biggs agreed, telling the magazine, "That's the compromise. Well, one more for sure. [Sid] needs another kid around."
While there is a huge difference between 17 kids and two kids running around the house, it definitely sounds as if Biggs and Mollen have had a conversation about children and are ready for one more. And as for gender, according to Entertainment Tonight, Biggs is hoping for a little girl.
One thing is for sure — no matter how many kids they want, or how many kids they end up having, Biggs and Mollen will continue to be excellent parents to all of them. For right now, it seems like two children is the perfect compromise for both of them.