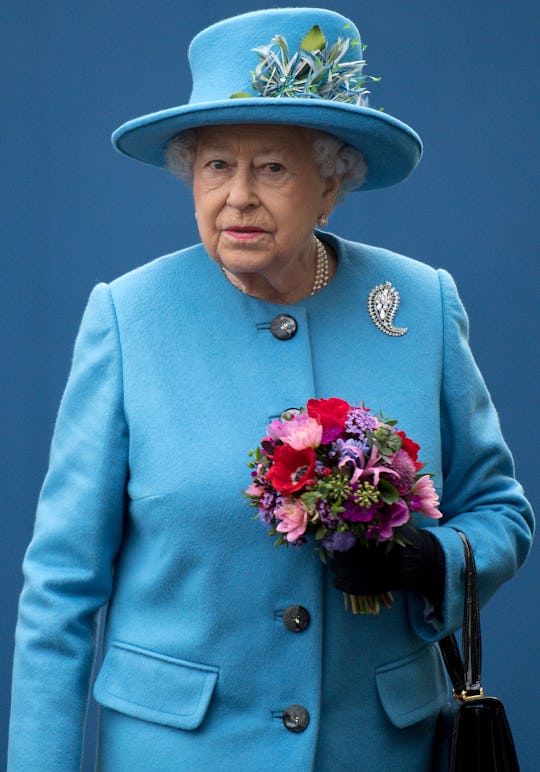 JUSTIN TALLIS/AFP/Getty Images
How Many Kids Do Queen Elizabeth II & Prince Philip Have? 'The Crown' Is About The Family
Netflix is getting ever more ambitious with their original programming, and their new series The Crown, which premieres in full on Nov. 4, is no exception. In fact, it may be their biggest project yet. It is proposed to last for six seasons, spanning the reign of Queen Elizabeth II from when she was first crowned all the way to the present day, which has obviously sparked interest in the details of her personal life. For example, how many kids do Queen Elizabeth II and Prince Philip have? The royal couple's children and grandchildren make up the infamous royal family we know and love today.
Queen Elizabeth and Prince Philip were married on Nov. 20, 1947. The couple then went on to have four children: Prince Charles Prince of Wales, born Nov. 14, 1948; Princess Anne, born Aug. 15, 1950; Prince Andrew, Duke of York, born Feb. 19, 1960; and Prince Edward, Earl of Wessex, born March 10, 1964. This means that Queen Elizabeth was still having children well into her 30s, and that Dukes and Earls are still an actual thing which will never not be bizarre to me. And since the show is about the life of the Queen of England, it makes sense that viewers are treated to seeing some of the early years with her children, though, only two of them (Prince Charles and Princess Anne) are shown in Season 1.
For a little context as to who exactly these people are, Prince Charles grew up to marry Princess Diana, with whom he had Prince William and Prince Harry, which makes him the grandfather to the little royals Prince George and Princess Charlotte. Other members of the family made huge waves and dominated the tabloid headlines in the '90s, but have largely fallen out of the public eye in more recent years. Prince Andrew's ex-wife, Sarah, known more commonly as Fergie, for example, was a gossip magazine favorite and caused more than a few headaches for the family.
The Crown promises to give audiences an unprecedented glimpse into the reality and the humanity of the British royal family, people who have spent their lives attempting to present perfect masks to the public for all of history. But while Queen Elizabeth is always The Queen, she's also a person, and this is the story The Crown will attempt to tell.