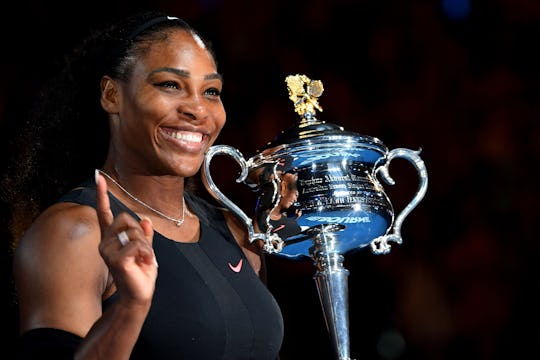 Quinn Rooney/Getty Images Sport/Getty Images
Serena Williams' Future Is Full Of Family & More Tennis Wins
Serena Williams is pregnant, and the world couldn't be more excited. There's something about the combination of high-achieving athletics, social media know-how, and anticipation over the impending bundle of joy that has put everyone on the edge of their seats — so much so that you can't help but wonder how many kids Serena Williams and fiancé Alexis Ohanian might want down the road.
Based on the couple's current relationship, it seems like this will be a happy family, no matter how many members. The couple announced that Williams, a tennis legend, was pregnant just last week on Snapchat, though the message was later deleted. Luckily, the couple is especially savvy when it comes to social media, so we have many forums in which to find continuous news about the pregnancy. Earlier this week, for example, Williams posted a photo of her bump on Instagram, along with a sweet and poignant message about the pregnancy. She wrote that her baby gives her strength that "I didn't know I had."
And you've got to truly believe her on that point, because according to simple math, Williams was eight weeks pregnant when she won the Australian Open in January. Williams, who has won more Grand Slam championships than any other player in the Open era, refers to herself as "the world's oldest number one" in the post, while referring to her baby as "the world's youngest number one."
Try as you might, it's difficult to speculate on Williams' relationship with Ohanian, a Reddit co-founder, because they were fairly mum about it until recently. According to People, the couple became involved in 2015, but didn't share solid evidence of a relationship until November, when they posted matching Halloween outfits on Instagram. In December, the couple announced their engagement via a ridiculously cute poem on Reddit.
Given how briefly the couple has been in the public eye, we don't know much about their plans, beyond the fact that they're excited for what the future holds. At this point, many seem more interested in Williams' future tennis plans than the family's future baby plans. Soon after the pregnancy announcement, Williams' coach, Patrick Mouratoglou, spoke with The New York Times about the star's future career goals.
"I know how important what is happening right now is for her, and I also know there's a really good chance that she'll come back afterward," Mouratoglou told The Times. "What is fabulous is all these challenges, and now there's a new challenge that's incredible. She'll be over 35 and a new mother trying to win Grand Slams."
If there's anyone who's up for that challenge, it is most certainly Serena Williams — no matter how many kids she might have at home.