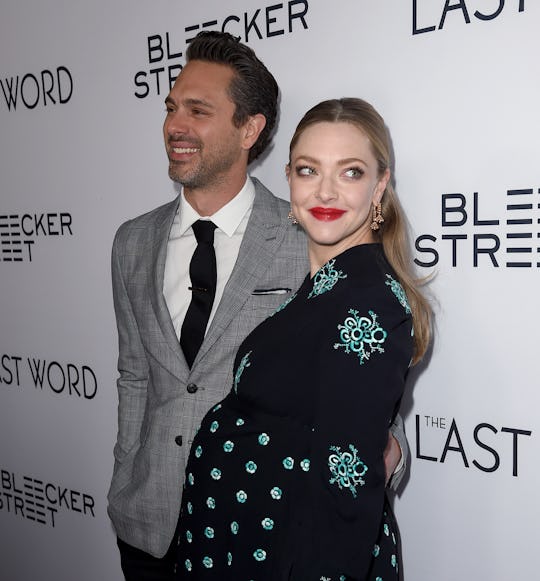 Kevin Winter/Getty Images Entertainment/Getty Images
Just How Many Kids Does Amanda Seyfried Want?
Things certainly seem to be coming together for Amanda Seyfried. The 31-year-old actress and mother-to-be just eloped with actor Thomas Sadoski this month, and the two seem happier than ever. In considering her growing family, fans are wondering: How many kids does Amanda Seyfried want? Will her first baby be plenty, or is she looking to round out a family of four, similar to the one she grew up in?
Seyfried announced her pregnancy in November, simultaneously sporting a sparkling new engagement ring. Since then, she's strayed away from commenting much on her pregnancy at all, instead opting to shrug off invasive inquiries or cracking jokes about her current state. When asked by Access Hollywood if the star was excited for her very first child, Seyfried just nodded, smirked, and shared: "[It's] pretty exciting. Thirteen months pregnant, man, can you believe it?"
What's more, for the most part, Seyfried refrains from posting many bump photos on her Instagram account and hasn't acknowledged that she's pregnant on Twitter, either. The closest thing to a Seyfried social media baby celebration? An Instagram post featuring her latest co-star, Shirley MacLaine, grabbing Seyfried's belly, with the caption: "I'm very proud of the baby I made with Shirley- it's called #TheLastWord and it's in theaters today!"
Though Seyfried has largely been quiet, however, her husband has been a bit more open about how he's feeling. In fact, he was the first to break the elopement news, sharing the scoop with James Corden on the Late Late Show. Forty-year-old Sadoski honestly admitted that he didn't feel fully ready for fatherhood yet, noting: "I'm more excited about this than I've ever been about anything in my life. I'm also more terrified about it than anything than I've ever done in my life."
Still, the two are keeping their familial aspirations private, and why shouldn't they? Though in recent months Seyfried has kept it coy, comments she's made in the past can help to shed a little bit of light on her ambitions for motherhood. In 2015, she revealed: "I want a child. Badly. I want to be a mother, badly. That's what I feel. I've been feeling it for like, two years." (Looks like this year, she's getting her wish!) Whereas it's still pretty unclear how many kids Seyfried hopes to add to her brood, one thing's for certain: Despite her staying private about her pregnancy, she's definitely passionate about motherhood.
Seyfried and Sadoski are keeping their family plans under wraps and that's OK; they're a young family focusing on what's important, rather than buying into endless social media speculation. No matter what the distant future holds, Seyfried's due date is coming up soon, and she couldn't have a better partner beside her to handle all the changes to come.