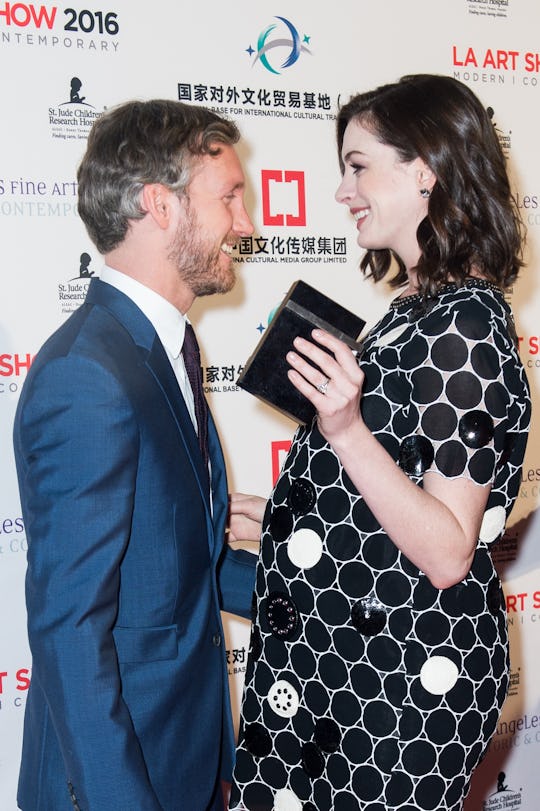 Emma McIntyre/Getty Images Entertainment/Getty Images
How Many Kids Does Anne Hathaway Have? She Just Welcomed Her First
The Hathaway house just got a little fuller and a lot noisier. Anne Hathaway gave birth to her first child with her husband Adam Shulman on Thursday, giving fans everywhere a reason to rejoice. According to E! News, the happy couple welcomed a baby boy named Jonathan Rosebanks Shulman on March 24 in Los Angeles, California. Hathaway has said for a long time that she couldn't wait to become a mother, so how many kids does Anne Hathaway have?
Baby Jonathan is the couple's first and only child and America is smiling from ear to ear. Of course, fans have been crossing their fingers for a miniature-Hathaway for long that some couldn't wait for the real news and began spreading gossip of their own (rumors circulated last year that the "Devil Wears Prada" star was adopting a baby, but were later debunked.) For the moment, Jonathan indeed Hathaway and Shulman's only child, but the little tot probably won't be an only child for very long — Hathaway reportedly wants a big and busy family.
It seems she's off to a good start with couple's new bundle of joy: Hathaway told The Telegraph back in 2012 that she had wanted to be a mom since she was 16 years old and had plans to have a family "of a certain size."
"I'd like to have a few naturally and adopt," she told outlet. "I gotta get on it, you know? I'd like to have as many as I can afford, not just financially but in terms of time, because you want to make sure each one feels special."
The Les Misérables, Dark Knight, and Princess Diaries star has made it no secret how much she's wanted motherhood to be a part of her life. In 2013, she even spoke with Vogue about her future family.
"Oh, my God. I want to be a mother, and I anticipate loving my children quite fiercely," she told the magazine. "I think about it all the time thought it's a silly thing to think about because he kind of mother I'll be depends on the kind of children I have. I can't wait to meet them."
Hathaway didn't keep her pregnancy a secret either — she stepped out in public several times giving fans a peek at her growing baby bump. She also took charge of how the paparazzi would handle it all by taking to Instagram in January to show off her adorable baby-bod in a red bikini.
"I figure if this kind of photo is going to be out in the world it should be an image that makes me happy (and one that was taken with my consent. And with a filter :)," she captioned the post.
E! News reports the baby Hathaway is healthy and surrounded by friends and family in L.A. and the new parents are ecstatic for their new journey.