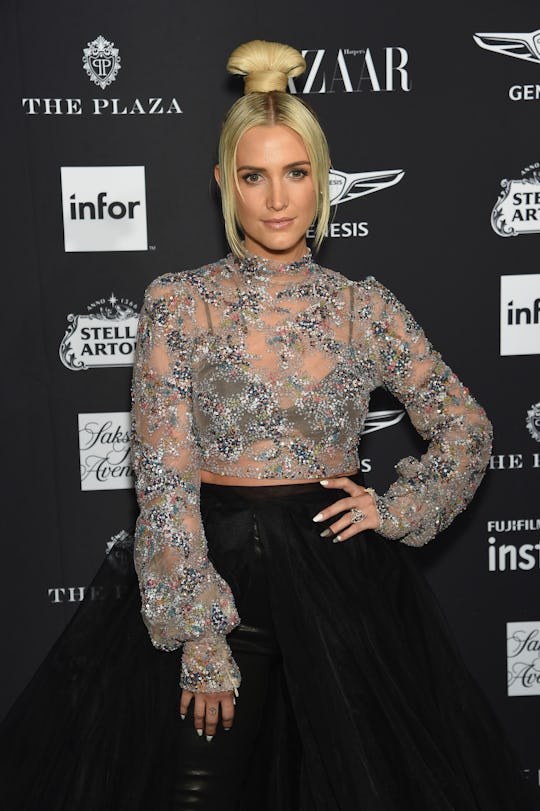 Dimitrios Kambouris/Getty Images Entertainment/Getty Images
Here Are All The Adorable Family Members That Will Appear On 'Ashlee + Evan'
Ashlee Simpson is back in the spotlight with her new E! show, Ashlee + Evan with her husband, Evan Ross. The show will showcase her life as a musician, wife, and mother, so how many kids does Ashlee Simpson have? The singer has already taught them so much.
Ashlee Simpson has two children: 9-year-old Bronx Wentz, whom she had with Fall Out Boy's Pete Wentz, as well as 2-year-old Jagger Ross, a daughter she had with Evan Ross. In an interview with E!, both Ross and Simpson said they want more children. "I'd love more kids. We're definitely having another one," Ross said.
Simpson wants to work on her career, then have another child. She said, "I want to finish this album and then definitely, for sure ... Definitely one more, and then we'll see what happens after that." She added that being a mother is the "number one" thing in her life. When speaking about parenthood himself, Ross said, "As long as you give your children love and they understand what's going on in the world and have compassion, I think it's not the hardest thing in the world."
Not only are Simpson and Ross giving their children a ton of love, but Simpson especially is teaching them valuable lessons. While her faux pas on Saturday Night Live in 2004 was devastating for her (she has to talk about it even now, in 2018), she's using her experience to inform how she raises her kids. In an interview with Rolling Stone about Ashlee + Evan, Ashlee Simpson said about the incident, "It was years ago, and even being a mom now, you want to teach your kids to be strong ... Everybody goes through stuff."
Simpson wants to portray her "real life" on Ashlee + Evan, which certainly includes her life as a mom. In the same interview with Rolling Stone she said, "My biggest thing on the show, and in general, is finding my balance of how [I'm a mom] and do all of the work in the studios and my hours, and also make sure I'm there for school. For me, it's so important that I find that balance, and you see me really trying to discover it."
Not only do Jagger and Bronx have famous parents, but their grandma is music royalty: Diana Ross. Evan Ross is Diana Ross's son (and Tracee Ellis Ross's brother), so they have some A-list babysitters on their roster. Apparently, toddler Jagger is already idolizing her grandma (and I don't blame her). "Bronx is creative and sweet and he's got an old soul. And Jagger is the boss," Ashlee told E!. "She's already like, 'Give me the microphone and the shiny dresses and I am going to be [Grandma]." Last year when Diana Ross accepted the Lifetime Achievement Award at the American Music Awards, Jagger stole the show (Ross had her grandchildren join her on stage, which is just adorable).
Being related to Diana Ross obviously has its perks, but also its mundane moments: such as Ashlee Simpson finding out Diana Ross's favorite emoji. Apparently, she loves to use the "heart" emoji — especially when talking about her grandkids. Simpson commented that at the end of the day, she and her family are pretty conventional. She told People, "People think it must be so crazy at Thanksgiving and all that, but we're a pretty normal family." It seems that Diana Ross is a hands-on grandma, which is amazing to see. Diana (and Tracee Ellis) Ross will appear on Ashlee + Evan, so fans will be able to see that conventional family life in action.