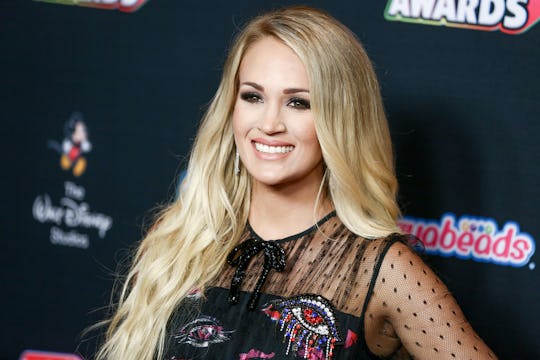 Rich Fury/Getty Images Entertainment/Getty Images
Carrie Underwood Has Baby No. 2 On The Way, But How Many Kids Does She Want?
Country music fans got super excited last week when one of the industry's biggest stars had a huge announcement to make. On Wednesday, American Idol winner and current country music superstar announced that she is expecting her second child with her husband, hockey player, Mike Fisher. This, of course, was incredibly exciting. But now that Underwood has another child on the way, fans have to be wondering — how many kids does Carrie Underwood want?
Underwood made her big announcement on Wednesday on Instagram, where she posted videos of herself talking about her Cry Pretty Tour, which is starting in May 2019, according to E! News. In the videos, Underwood explained why her tour is starting a little less than a year from now — because between now and May, she will be giving birth to her second child. Cue the excitement. "Mike and Isaiah and I are absolutely over the moon and excited to be adding a little fish to the pond," Underwood said in one of the Instagram videos, according to E! News.
Underwood already knows a thing or two about being a mom; her son, Isaiah, is already 3 years old, according to Country Living. And now that she's getting ready to add one more baby in her household, it's possible that she could be getting ready to add more in the future. A source told Us Weekly on Friday that Underwood reportedly wants more kids and could even expand her family through adoption.
"Carrie does still talk a lot about adopting children because she truly does want a large family and wants to be a mom to several kids," the source told Us Weekly.
But fans don't have to take just this "source's" word. This is because Underwood has been very outspoken about her desire to have more kids and grow her family with Fisher, even if she hasn't stated exactly how many she wants. Just one week before she announced her second pregnancy, Underwood told Redbook that she had always wanted a big family, but felt that her age (she is 35 years old) is currently stopping her from doing that. Underwood said, according to Redbook:
We always talk about adoption and about doing it when our child or children are a little older. In the meantime, we're lucky to be a part of organizations that help kids, because our focus in our lives is to help as many kids as possible.
Despite any stigmas surrounding older mothers, women who are past the age of 40 are capable of carrying and delivering a baby, according to The Cut, just as long as the mom is healthy. But, the older a woman gets, the less fertile she becomes, which makes having a baby a bit harder. That being said, there is still plenty of time for Underwood to have a big family.
Having a family is something that Underwood has talked about for years. In 2013, Underwood told People that she wanted a family, according to E! News. "I know Mike would be an incredible dad," Underwood said. "Not that it's going to happen anytime soon!" Maybe she spoke a little too soon, because two years later, Isaiah was born on March 4, 2015, according to Us Weekly.
Although Underwood cited her unpredictable touring and performance schedule for a reason that she wasn't ready to have kids, Underwood quickly changed her mind. In 2016, Underwood told People that she and Fisher definitely wanted more kids:
I'm not sure when, since we're both kind of busy these days. But yeah, definitely. And I'm like, "[Isaiah's] so good — I could definitely do a few more of those.
One year later, in 2017, Underwood told Entertainment Tonight that she was ready to have another baby, depending on the timing. Underwood said, according to Entertainment Tonight:
We're on Gods good timing, or whatever you might call it. I'm just trying to figure out where life is going to take me next.
Now, a little more than a year later, it's clear that life took her to motherhood, again, because Underwood has a new child on the way. And the photo of her pregnancy bump that she posted to Instagram this weekend shows that she is so excited for her baby's arrival.
Who knows? Maybe within a few years from now, Underwood and Fisher will be welcoming a third child into their family. Whatever the case may be, it's obvious that Underwood has to feel that the timing in her life is right — and right now, that timing is absolutely perfect to welcome another to their brood.