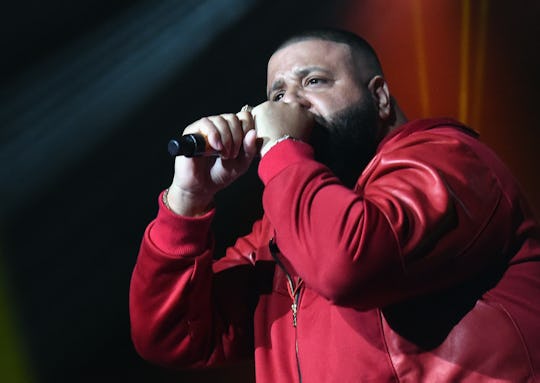 Rick Diamond/Getty Images Entertainment/Getty Images
DJ Khaled's Son Is His Whole World These Days
DJ Khaled might be best known for good tunes and good times, but he's also a dad. So how many kids does DJ Khaled have? For now, it's just one, and he seems to have totally fallen into #DadLife right away.
Khaled welcomed his first child with his longtime partner Nicole Tuck in October 2016 and announced the birth exclusively to the world via Us Weekly. His rep told the magazine at the time that he and his partner welcomed "their son, a beautiful, healthy young icon, Asahd Tuck Khaled" at exactly "2:05 a.m." on Oct. 23. The newest "icon" was just "7 lbs 14 oz., and 21.5 inches long." The couple added that his name meant "lion" in Arabic.
Obviously, the musician and Tuck were totally enthralled with their healthy baby boy, er, "icon" from the very start. Even before Asahd was born, Khaled was already ready to make him a social media star. He posted a picture of Tuck in hospital with a hand on her belly and captioned it, "Dr. my son want to see me. Doctor, it's go time, right?" Pretty adorable. He was apparently one of *those parents* who could not wait for the whole thing to begin. The same night he was overheard in a friend's Snapchat explaining to his loved ones, "the water broke, so it's just about time." (Khaled was obviously a pro at hiding those first-time parent jitters.)
Khaled had warned his fans that he would be intense about the actual birth. The 40-year-old told Jimmy Kimmel in July 2016 that he wanted to Snapchat the "whole thing." Like the good listener the talk show host is, Kimmel asked Khaled how his partner felt about a phone up in her face (and who knows where) during the birth. DJ Khaled was unabashed in his excitement, explaining,
The key is that I'm the king and every queen should support the king. I'm going to talk to the doctor and if the doctor says everything is gonna run smooth, meaning that we wanna make sure that the queen is right and my son is right. If it's running smooth where I can just do my thing, I'mma Snapchat the whole thing.
Luckily, everything was "running smooth" and Khaled ended up documenting much of the birth process via Snapchat, ending up with about eight minutes of video content.
Since then, he's been celebrating fatherhood every chance he gets. DJ Khaled's upcoming album is titled Grateful, and will likely be filled with new parent joy. He's even said that his son is his executive producer of the album. Khaled tweeted on Wednesday, "Being a father was the greatest thing that happen[ed] for me #Grateful."
For sure, Asahd will love to know that he already has a producing credit when he inevitably starts his own career someday. In the meantime, let's hope the fam keeps the adorable dad tweets and Snapchats coming, because they're just too good to keep private.