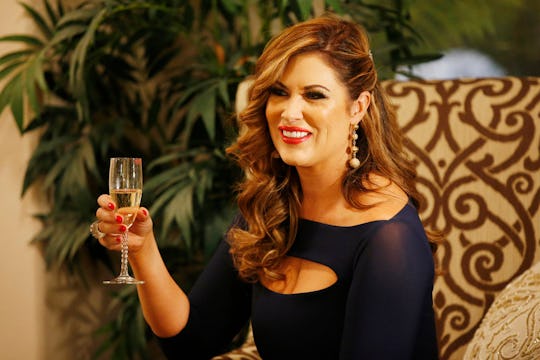 Phillip Faraone/Bravo
Emily Simpson Is Open About Her Fertility Issues On 'RHOC'
Emily Simpson joined The Real Housewives of Orange County in Season 13, letting viewers in on her home and her life, as well as how she balances work and family with the help of her husband Shane. They have children together, but Shane also has kids from his first marriage, making Emily both a mom and a stepmom. But how many kids does Emily Simpson have?
Emily and Shane have a five-year-old daughter named Annabelle, as well as twin three-year-old boys Luke and Keller. The Simpsons' three little ones joined older sisters Shelby (age 17) and Chanel (age 12) from Shane's previous marriage. Fans of RHOC have been introduced to all of Emily's kids on the show, and they've also learned about the difficulties she had bringing them into the world. Emily struggled with fertility issues for years and suffered a miscarriage in 2011. According to an interview Emily did with BravoTV.com, her sister Sara came to visit shortly after that and offered to be her surrogate. Sara was Emily's surrogate for all three of her children.
"I'm very happy to share it and I'm very open about what I went through in my personal life," Emily told Page Six. She said she'd received so many messages from viewers who were dealing with the same situation and felt less alone after hearing Emily's story. "If it gives people a reason to have a conversation or feel better about what they're going through, then I'm glad I did it and I'm glad I'm sharing it."
Emily is just as open with Annabelle, Luke, and Keller, though the twins might be too young to fully understand the ins and outs of surrogacy just yet. But as Emily told People, slightly-older Annabelle "knows that her aunt carried her in her belly and that's where she lived and then she was born." Emily felt it was important for her kids to know exactly what happened for a few reasons, which she also explained to People:
I'm very honest and open because I just want them to know how they came to be and also not make it a big deal. Like, 'That's just what happened. That's where you lived and then you were born and now you're mine.'
Though Emily said there were times she wished she knew what it felt like to be pregnant herself, there were also times when she was glad she didn't. "I'm okay with that," she said. "Obviously, the end result of having children is the most important thing."
Emily might be interested in having more children, too. She told BravoTV.com that she would like to have another daughter, but her husband isn't interested in having more kids. "While it's a discussion we often have, we don't necessarily fight or argue about it," she said. "It's true that another child is something that I really want, but Shane's reasons for not wanting more children are valid and reasonable, so I respect his position." However, that didn't mean she wouldn't still try to change his mind.
It was because of Emily's super close relationship with her sister Sara that she wanted Annabelle to have a sister near her own age. So perhaps RHOC fans will see Emily's family grow in future seasons.