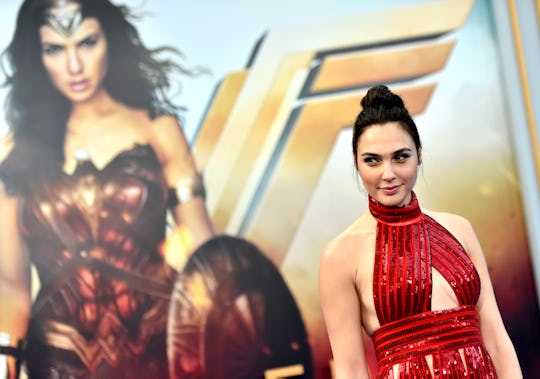 Frazer Harrison/Getty Images Entertainment/Getty Images
Gal Gadot Is A Wonder Woman In More Ways Than One
So, it's no secret that the world is kind of in shambles right now. From terror attacks, political hellfire, and more and more scandal coming out of the White House with each passing day, just being a human being on this planet can tend to get overwhelming. Especially when you're a woman. Sexism is alive and well in today's society, and finding ways for women to be inspired despite the wage gap and blatant insults being fired off from every direction isn't exactly easy. Luckily, that's where Wonder Woman comes in. But, who exactly is this new femme fatale, and what do we know about her? Is she married? What did she do before becoming an actor? Does she have kids, and if so, how many kids does Gal Gadot have?
Of course, the actress and literal warrior is a mom of two adorable daughters, and she's is the perfect example of female empowerment. Gadot and husband Yaron Versano, whom she married in 2008, are parents to 6-year-old Alma and 2-month-old Maya, about whom the couple is pretty private on social media.
In case you (somehow) weren't aware, the new Wonder Woman movie has officially taken the world by storm. This latest adaption is the first female-centric superhero blockbuster, and is already shattering records all over the nation, earning more than $100 million over opening weekend — but, clearly, that's not all that makes Gadot so special.
As Gadot has discussed in multiple interviews, she is more than just an actress, and, in fact, wasn't trying to become one. When she was 20, Gadot served two years in the Israeli Defense Forces as a combat trainer. (This, coupled with the fact that Gadot is Israeli, prompted the country of Lebanon to ban the film altogether, as the two nations are currently at war.)
But it's more than Gadot's military training that has made her into the powerhouse she is today. Being a mom has also greatly impacted the actress' life. In fact, Gadot has said that it was childbirth that truly made her feel like she was Wonder Woman, more than training.
"It's cheesy, but I feel like Wonder Woman when I give birth," she told news.com.au in a May interview. "When you deliver, you feel like you're a god. Like, 'Oh my God, I made this!' The best thing is to become a mother and to give life."
In a world where women and girls continue to feel devalued and put down, Wonder Woman couldn't have come at a more opportune time. Being a mom of two, or even one, isn't easy, and Gadot proves that all women are, to some extent, Wonder Women in their own right — no comic book powers necessary.