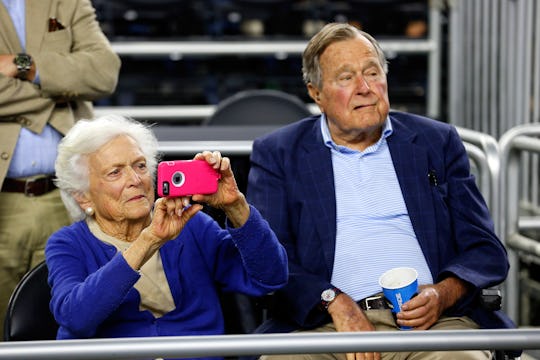 Tom Pennington/Getty Images Sport/Getty Images
How Many Kids Does George HW Bush Have?
President George H.W. Bush and his wife, former first lady Barbara Bush celebrated an amazing 72 years of marriage on Jan. 6, making them the longest-married couple in presidential history. Many of those years were spent raising a family, and although most people are familiar with the more high-profile Bush children (President George W. Bush became the 43rd POTUS, following in his dad's footsteps, and his younger brother, former Florida Governor Jeb Bush, ran unsuccessfully against President-elect Donald Trump in this past election cycle), the couple actually had a much larger family. How many kids does George H.W. Bush have? He and his wife actually had six children together after marrying in 1945.
The future Mr. and Mrs. Bush first met as teenagers at a Christmas dance in Greenwich, Connecticut, and were engaged 18 months later, according to Politico. They'd ultimately have to wait another two years before tying the knot though, since Bush was headed off to train as a pilot in the U.S. Navy during World War II (though she clearly wasn't far from his mind — he named three of his planes after her while on assignment). The couple married at the First Presbyterian Church in Rye, New York, while Bush was on leave.
When World War II ended the summer after they wed, Bush returned home from overseas and moved with his wife back to Connecticut, where he enrolled in Yale, according to PBS. Their first son, George W. Bush, was born in New Haven in 1946, and three years later, in 1949, their first daughter, Robin Bush, was born. But when Robin was only 3 years old, she was diagnosed with leukemia, and died only seven months later. In an 2012 interview on TODAY with her granddaughter, Jenna Bush Hager, Barbara spoke about the heartbreaking day Robin died, and said, "I was combing her hair and holding her hand. I saw that little body, I saw her spirit go."
The Bushes second son, Jeb Bush, was born in 1953, shortly before Robin's diagnosis. In the next six years, the couple had three more children: Neil Bush, Marvin Bush, and finally, Dorothy Bush, known as "Doro," who was born in Texas in 1959. In June 1975, while the Bush children were visiting their parents in China during George H.W. Bush's role as U.S. Liaison Officer, Doro actually became the first person to be publicly baptized in the country after it was taken over by the Communist party in 1949, according to PBS.
In addition to their five living children, George H.W. Bush and Barbara Bush now have 14 grandchildren, and seven great-grandchildren, according to Politico. And even though they've been married longer than most people have even been alive, it's clear that they are still very much in love. In a separate TODAY show interview with Hager — this time in 2011 — the former president teared up on-air while reading a love letter he'd written to his wife on their anniversary in 1994, according to The Huffington Post. It read,
Will you marry me? Whoops. I forgot you did that 49 years ago today. I was very happy on that day in 1945, but I'm even happier today. You give me joy that few men know. I've climbed perhaps the highest mountain in the world, but even that cannot hold a candle to being Barbara's husband. Little did I know I was only trying to keep up with Barbara Pierce from Onondaga Street in Rye, New York. I love you.
Who knew President Bush was such a romantic? The couple has clearly remained incredibly close throughout all the years they've spent together — through the ups and downs of political life, not to mention the loss of a child and the challenges of raising a large family. But Barbara Bush told Hager in 2012 that, though they are advancing in age, her husband isn't sad at the thought of dying, since he believes he'll be reunited with his daughter, Robin, once again. In fact, after a lifetime of missing his little girl, Bush said her husband knows that Robin is "who he'll see first."