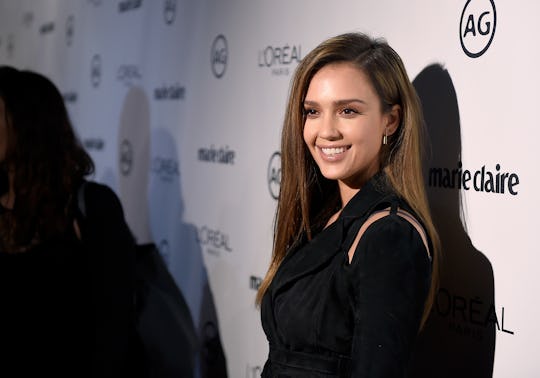 Matt Winkelmeyer/Getty Images Entertainment/Getty Images
How Many Kids Does Jessica Alba Want?
Actress Jessica Alba revealed on her Instagram on Monday that she is pregnant, with a little help from the daughters she already has. According to the New York Daily News, Alba is expecting baby number three, and she made the announcement in a very short video on Instagram featuring herself and her two daughters. In it, her oldest daughter held up a balloon in the shape of a "1," and her second child had a "2" balloon, while Alba clutched a "3" balloon with her hand on her stomach. It was such a cute way to involve her girls in the announcement. So, with number three on the way, just how many kids does Jessica Alba want, anyway?
According to People, Alba is a mother of two already, with her husband Cash Warren. Her daughters — Haven Garner, who will be 6 next month, and Honor Marie, who is 9 — were the ones featured in the adorable Instagram post.
AOL.com reported that it's unclear how far along Alba is in the pregnancy, but that she may join the list of celebrities who have had children in 2017 so far.
The sweet Instagram post was captioned, "@cash_warren and I are officially going to be outnumbered #babyonboard #herewegoagain 👶🏼🤰🏽#blessed🙏," and linked to her husband Cash Warren's Instagram account, where he's also posted photos of their family in the past.
But, even though they just announced Alba's third pregnancy, could the couple already be thinking about adding more to the crowd?
When E! News asked Alba in 2015 whether she hoped to grow her family and whether she was thinking about a third baby, Alba had this to say:
I'm just happy to have healthy babies and—not right now—I'm busy...I'm really busy! I love kids and I love babies, but right now, I can't imagine. It just started to get easy.
And that was, of course, well before this pregnancy announcement.
And when Access Hollywood asked Alba in 2012 whether she and Warren wanted to add another addition to their family, just months after Haven was born, Alba joked that she already had a third kid. She told Access Hollywood her business venture, The Honest Company/Honest.com was her third baby. Alba said of her business:
This is my third baby. I have actively gotten back into acting. I did my first movie since I had Haven. So that was really fun and exciting.
She then added:
I'm happy with my two girls… down the road in five or 10 years, who knows, but for right now, I'm good.
And because of her company, Alba doesn't feel like her own family is the only family she should take some responsibility for. She told In Touch Weekly in 2015 that, when it comes to her business, she wants to make the right choices for her staff and their families too. She told In Touch why she wasn't ready for another baby then, and said:
I love kids. I'm just too busy; it wouldn't be fair to have another baby right now.
I'm responsible for over 350 employees! A lot of them have families, too, so I feel pressure to make the right choices.
Which is a really awesome way of thinking as the leader of a company — especially a family-oriented one like The Honest Company.
So how many kids does Alba want? Well, it sounds like even a few years ago she wasn't sure about having a third baby, so any more than that is probably not something that's on her mind right now. But if she does want more, it's totally her right to let fans know in her own way — or not.