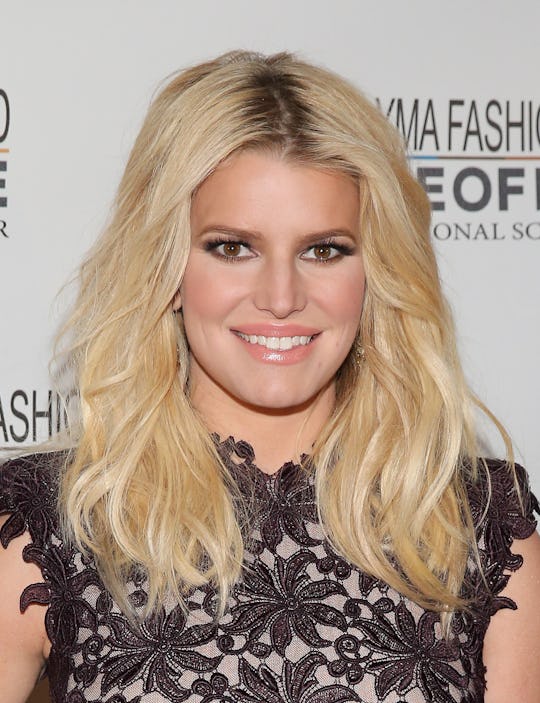 Neilson Barnard/Getty Images Entertainment/Getty Images
How Many Kids Does Jessica Simpson Have? There's Another On The Way
Jessica Simpson and husband Eric Johnson are no strangers to the celebrity game. The pair is often photographed as they go about their daily lives as a family. While you might have seen them with a few tow-headed kids at their sides, many are wondering just one thing. How many kids does Jessica Simpson have? Let's start at the beginning to find out.
The blond bombshell was married to former 98 Degrees front man, Nick Lachey, for a little over four years. As fans saw on MTV's Newlyweds: Nick and Jessica, it wasn't exactly wedded bliss. The show ended and they divorced. While Jessica sang, acted, and produced, she gained her notoriety through this show. She had a hit show, but no children at this point.
After their divorce she was tied to singer John Mayer, football star Tony Romo and a few others, but none of these relationships brought children to the table, according to E! News.
After a laundry list of short-lived relationships, and a good spell of being single, Simpson met former NFL star Eric Johnson and the two started dating in 2010, according to Us Magazine.
Then came the children. The count so far at this point in her life — two.
Her daughter Maxwell Drew (or as she calls her MaxiDrew) was born in 2012 and her son, Ace Knute, was born in 2013, as another article from Us Weekly reported. That makes the siblings six and five respectively, according to People. Both kids seemed to inherent their mother's blonde locks and infectious smile — total cuties.
A year after Ace was born, the pair decided to make it official. Simpson and Johnson married in an extravagant wedding at the San Ysidro Ranch in Montecito, according to E! News. The wedding weekend, which reportedly cost $1.4 million, was a huge gathering of family and friends, the outlet also reported. Together, they had a wedding party of 275 with Maxwell Drew as the flower girl and Ace as the ring bearer.
Simpson sat down with Ellen Degeneres last year and said, "I have two beautiful children, and I'm not having a third."
So much for that plan, though. Just last month, Simpson and her husband announced their third pregnancy in a series of super cute Instagram posts. The big brother and sister helped announce that they'll be welcoming another baby girl in the spring.
"This little baby girl will make us a family of five," the fashion mogul captioned the photo. "We couldn't be happier to announce this precious blessing of life."
One look at Simpson's Instagram page, and you'll see that this 38-year-old star is not shy about showing off her baby bump.
In a recent interview with Us Weekly, Simpson opened up about what being a mother means to her.
"Being a mother is the best opportunity and challenge I've ever been blessed with in life," Simpson said. "Right now my kids are in this amazing stage where I'm really listening to them without judgment and they're teaching me so much. These little innocent kids teach me so much about life."
Will Simpson and Johnson try for baby number four? Only time will tell. Until then, all are content with their current party of five status. Congrats to the couple on their expanding family!