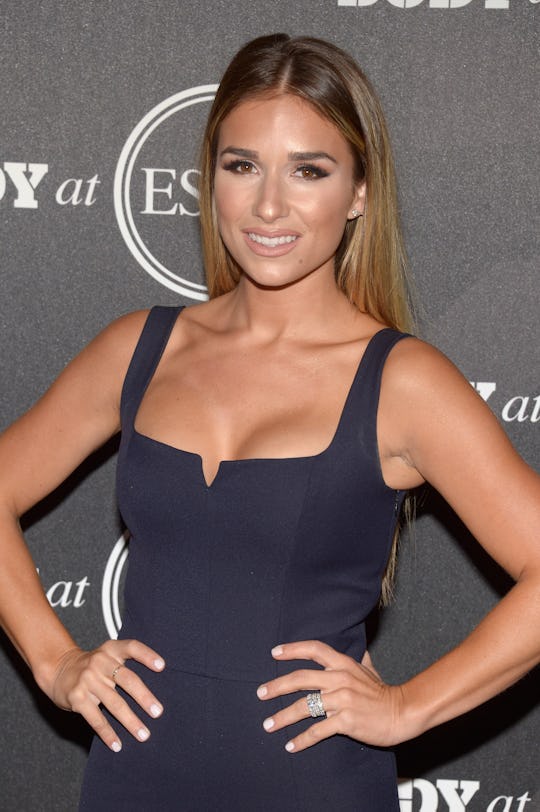 Dave Mangels/Getty Images Entertainment/Getty Images
Jessie Decker Announces Baby No. 3 & People Are Already Asking If She'll Have More
On Tuesday, Jessie Decker took to Instagram to reveal that she's expecting her third child with her husband, Eric Decker. Now that Decker is expanding her family once again, fans are very curious about Decker's baby plans once child number three makes its debut. Decker and Eric do make really cute kids, after all. So, how many kids does Jessie Decker want?
If you've been following Decker's story throughout the years, you know that she adores being a mom to her two kids, Vivianne Rose Decker and Eric Decker II. When Decker became pregnant with Vivianne in 2013, she was over the moon with excitement and love.
Decker said of learning she was pregnant for the first time, according to E! Online:
It was a surprise at first, it wasn't planned. But when we did find out we both started crying and hugging each other. We're so excited and feel so blessed with having a baby. We're so excited.
Obviously, Decker was just as thrilled to find out about her second pregnancy and to tackle motherhood once again. Decker said at the time, according to Us Weekly:
Vivianne is so excited because she is going to be a big sister. We are over the moon about having another baby!!!
Following Eric II's birth, Decker revealed that she was definitely open to having more kids and that she was leaving it in "God's hands," according to People.
Decker went on to say, according to the Daily Mail:
I do see more kids in the future. I don't know if it is necessarily right now, but we're not doing anything not to have more kids. We're just leaving it up in the air and leaving it in God's hands.
And, in an Instagram photo of Eric II posted in November 2016, Decker wrote, according to the New York Post:
Let's make more of these @edeck87.
So, will Decker and Eric try for baby number four to make their dreams of a big family a reality? Although Decker has expressed a desire to have more kids in the past, it turns out Decker has changed her mind.
Decker revealed, according to E! Online:
Honestly it's just not a question. I don't want more than three. There's nothing wrong with people that have four or five kids, it's just not for us. The fact that we were teeter-tottering on two, I felt like three was probably in the cards.
Oh, and if you're wondering if there's even the slightest chance for a fourth ... think again. Decker explained, according to E! Online:
... I've had a few year break from being pregnant and so now it's a good time. But there will definitely not be a fourth. We're good.
If you're disappointed by Decker's reveal, take solace in the fact that baby number three will be arriving sometime in March. That's a lot of cuteness to look forward to, right?
As for more details about number three, Decker and Eric do know both the baby's sex and future name. Decker said of the name, according to E! Online:
We knew all of our children's names long before. We've always had the same names picked out for the last four years. He and I are kinda like that. We just, we had a mental plan of what to do with the children's names whether it was a girl or a boy.
Well, there's nothing wrong with planning ahead.
Although it might be disappointing to some fans that Decker only wants three kids, it's nice to know that she and Eric feel content with their family as it stands. At the end of the day, this is a personal decision for Eric and Jessie, and they deserve to have the upmost respect from fans.
Watch Romper's new video series, Romper's Doula Diaries:
Check out the entire Romper's Doula Diaries series and other videos on Facebook and the Bustle app across Apple TV, Roku, and Amazon Fire TV.