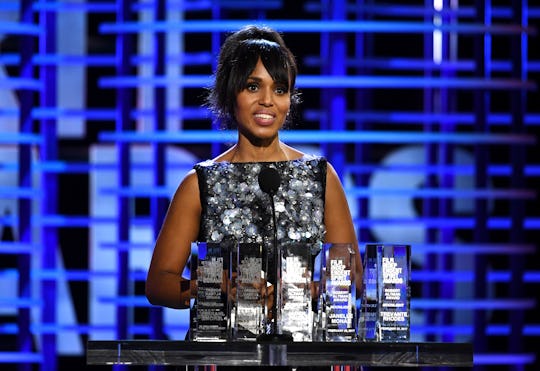 Kevork Djansezian/Getty Images Entertainment/Getty Images
Kerry Washington's Kids Are Very Lucky Children
Kerry Washington is one of the most talented, gorgeous, and intelligent actresses around. On top of that, she's a total mom inspiration, and juggles her burgeoning career and growing family with aplomb. How many kids does Kerry Washington have? The Scandal star is the mother of two very lucky children.
Washington, who recently turned 40, has a daughter, 3-year-old Isabelle, and a son, 7-month-old Caleb, with her husband, former NFL player Nnamdi Asomugha. It seems extremely likely that Isabelle and Caleb are adorable (just look at how beautiful their parents are!), although it's hard to verify for sure, since Washington has made it a point to be protective of her children's privacy. She doesn't post photos of them on her social media accounts, because even though she's famous, she wants her children to be able to make their own decisions about sharing their lives with millions of people on Instagram. Back before Caleb was born, when asked about whether she'd post pictures of Isabelle on social media, Washington told an audience at SXSW,
I want her to be able to make those decisions in her time. She already has a lot to navigate in life as the daughter of an actor and a former football player. She should be able to enter this world when it feels right for her, and not [have me] make that decision for her. Who knows what the next generation of Snapchat will be when she's allowed to have a phone.
Just to reiterate: total mom inspiration.
It seems that Washington has been adjusting well to being a mother of two. In addition to making time for her family, she's continuing her work on Scandal, recently promoted her turn as Anita Hill in Confirmation, and has been using her platform to stand up for activism, giving a rousing speech at the L.A. Women's March.
The only thing Washington doesn't seem to have time for is enough sleep, telling Extra at the Golden Globes in January, only a few months after Caleb's birth, "It's the best acting of my life right here, the well-rested woman. It's my best role."
And even though Washington tries to keep her private life private, she did tell The Los Angeles Times,
You know I don't talk about this stuff, but I will say I feel really, really blessed. I just feel really blessed that I'm kind of living extraordinary dreams come true in my work life and in my personal life.
Kerry Washington may have a full work life and maybe she doesn't exactly get a whole lot of sleep, but with a loving spouse and two sweet little ones at home ready to take after both of their amazing parents, the future is definitely a bright one.