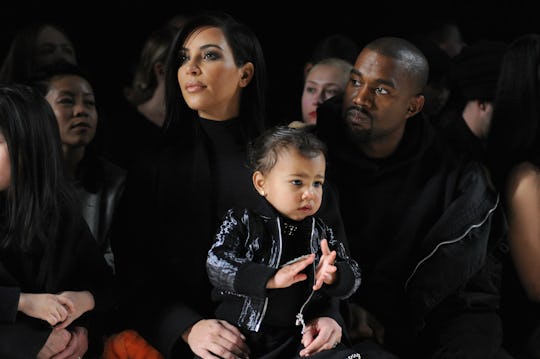 Craig Barritt/Getty Images Entertainment/Getty Images
Kim Kardashian Wants More Kids With Husband, Kanye West
Just when you thought the Kardashian family could not get any bigger, there might be a new Kardashian to keep up with on the way. On Wednesday, E! News reported that Kim Kardashian and husband and musician Kanye West hired a surrogate to carry their third child. Some fans are wondering how many kids Kim Kardashian wants, especially now that she has another one on the way.
As one of six siblings, Kardashian knows a thing or two about being in a big family — and if the reports are true, then she is halfway to growing her own family just as large as the one she comes from. Kardashian, of course, is already mother to 4-year-old daughter, North, and 1-year-old son, Saint. In March, on an episode of Keeping Up With The Kardashians, Kardashian revealed that she was trying for just one more child, but that getting pregnant would be a risk to her health. "I'm going to try to have one more baby," Kardashian said. "I want my kids to have siblings but the doctors don't feel like it's safe for me."
But now, with the help of a surrogate, Kardashian's health will be less of an issue, and she can fulfill her dream of giving her children siblings (yes, that's more than one). "I grew up with siblings," Kim told Today in 2014, according to E! "If I could just snap my fingers and have four, I would have four." In 2014, Kardashian also told Ellen that she wants "three or four" kids.
Having more children isn't as easy as snapping your fingers, but having a surrogate does alleviate the risks that come with pregnancy. West, like his wife, wants a little more than three children as well. Sources told People on Friday that West would "be open" to adding two or more children to the family — and that a family of "five or six" would be ideal for West. In 2016, Kardashian also confirmed that, at the time, her husband could not stop talking about adding more children to their family.
More children could definitely be a future reality for West and Kardashian, who has stated time and time again how happy she is to be a mother. "I love being a mom," Kardashian has said in the past, according to Vogue. "It's the most rewarding feeling! I really love every phase!" Even though one more child might be on the way for Kardashian and West, it is clear that maybe even more could follow.