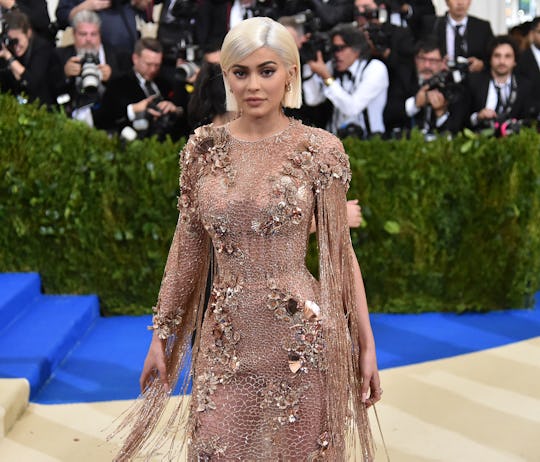 Mike Coppola/Getty Images Entertainment/Getty Images
Here's How Many Kids Kylie Jenner Might Want
The world just about lost its collective mind Friday, when news broke that Kylie Jenner was pregnant with her first child with her boyfriend, Travis Scott. The couple has yet to officially confirm the news directly, but according to People, the 20-year-old reality star is thought to be due in February, and is said to be carrying a girl. Although the pregnancy was reportedly unexpected, sources have said Jenner is super excited about impending motherhood. And if she plans on following in the footsteps of her mother and sister, it's possible that Jenner's baby-to-be could be one of many. How many kids does Kylie Jenner want? It sounds like she's definitely been thinking about motherhood — even if it might be coming a bit sooner than she originally planned.
Getting pregnant at 20 isn't always an easy road, but it definitely helps matters when you also happen to be a millionnaire business mogul with a tight-knit and supportive family. As the baby of the Kardashian-Jenner clan, Jenner has plenty of experience around little ones: her sisters Kourtney and Kim Kardashian are both mothers, and her brother Rob also has a little girl. And from the sounds of it, she considered growing up in a house full of siblings to be pretty awesome.
In a 2015 interview with Teen Vogue, Jenner said that she hoped to be a mom one day — thanks, in part, to her relationship with her sisters. She said,
Having sisters is the best. I have a different relationship with each of them. I go to Kim for fashion advice, Khloé is always boy and family advice, and Kourtney is like another mother to me. It's so fun being an aunt. When I look to the far future and decide to have kids, I need to have a million girls. Ten years from now—in 2025—I hope I have a kid.
She may be a little bit ahead of schedule on that, but at the same time, it seems like she's had lots of opportunity to practice her parenting skills. In addition to being an aunt to six little ones, she was also in an on-again-off-again relationship with Tyga, who shares a young son, King Cairo, with his ex, Blac Chyna. And as any "dog mom" out there will probably tell you, sometimes having animals feels a lot like having babies, too.
According to Refinery 29, on the premiere of her reality show Life of Kylie, Jenner was asked by producers if she thought she wanted kids one day. Already a "mom" to four dogs, Jenner replied, "I do want kids. My dogs feel like my little kids."
But according to Life & Style, Jenner also made it clear in a Snapchat video last October that, while she wanted to be a mom, she also wasn't in any hurry. She said, "I'm getting a lot of questions about kids. How many kids do I want? Do I want kids? And I do want kids. But not now."
In other words, Jenner sounded like a pretty normal 20-year-old who had a general idea of what she wanted in the future, without necessarily feeling like it had to happen right away. Of course, often times circumstances can mean that our plans change — either through a deliberate change of heart, or just because sometimes pregnancies come as a bit of a surprise. Either way though, it's clear that Jenner has always had her heart set on motherhood, and it sounds like she's more than happy to be welcoming her first child.
And unlike most young moms, the fact that she's more than financially stable will certainly ease much of the burden that she would otherwise face, not to mention that her close relationships with her siblings means that she'll have plenty of people to go to for advice if she needs it. And let's not forget that her own mom, Kris Jenner, raised six kids. In other words, Kylie definitely won't be on her own as she adjusts to life as a new mom.
News of Kylie Jenner's pregnancy may have come as a bit of a shock to her fans, but from the sounds of it, motherhood has been something she's been looking forward to for a long time. And it won't be too long now before it actually becomes a reality.
Watch Romper's new video series, Romper's Doula Diaries:
Check out the entire Romper's Doula Diaries series and other videos on Facebook and the Bustle app across Apple TV, Roku, and Amazon Fire TV.