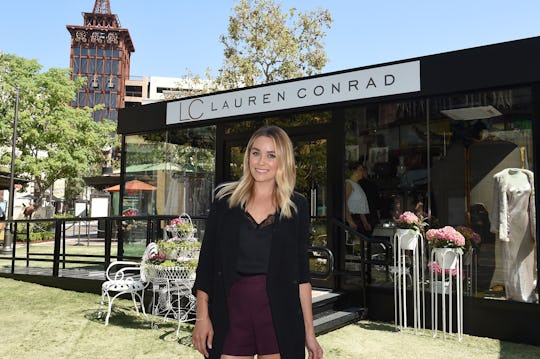 Joshua Blanchard/Getty Images Entertainment/Getty Images
Lauren Conrad Wants 2 Kids For A Very Good Reason
Remember Lauren Conrad, whose trials and tribulations kept the world glued to their television screens on The Hills? In case you missed it, she's all grown up, and she recently shared the number of kids she'd like to have. In case you're like me and haven't caught up on the fashion designer since your high school days, you may be wondering, "Wait, what? Lauren Conrad is married? How many kids does Lauren Conrad have? Does she have kids already?" But don't worry — I did a bit of catching up. (Just online, not in person, of course. I would be woefully underdressed for an interview with Conrad.)
As it turns out, Conrad doesn't have any kids yet, but on Jan. 1, she announced that she was expecting her first. As the caption to an Instagram snapshot in which she held up a sonogram picture, she wrote:
Happy New Year! I have a feeling 2017 is going to be the best year yet...
Which is just adorable. On her personal website's Instagram, she also shared a photo of her baby bump, visible in a snug dress. And ever since Conrad announced her pregnancy, she's been very open with her fans about it. On her blog, she shared that she wants two children, so that she and her husband, musician William Tell, won't be "outnumbered."
Just last week, Conrad and her editorial team also shared a few of their favorite baby names with fans. Their picks included Rowan as a top choice, followed by names like Elle, Sienna, Jackson, and Jasper. No word yet on whether Conrad will actually choose one of those names or surprise the world with another, but she's clearly got her little one on the mind. I have a feeling fans will also be seeing a lot more motherhood content cropping up on Conrad's blog.
She's also looking forward to her family's future. In a recent blog post, she wrote about the best part of being married to Tell, with whom she tied the knot in 2014. "My favorite thing about being married is knowing that I have a partner in life that I get to do so many wonderful things with," she wrote. "Dreaming of the things we will do 20 years from now is so fun."
With one Jasper or Elle or Rowan arriving soon, Conrad and Tell should have plenty of new experiences coming their way — and hopefully for fans, that arrival will spur plenty of pictures and blog posts of the newest addition to their family. One thing's for sure: Whether it's a boy or a girl, that kid is going to be the most stylish tot around.