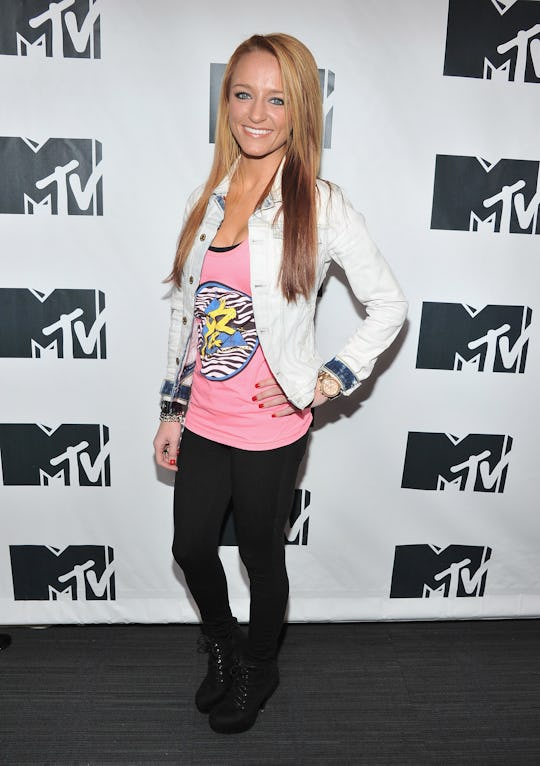 Theo Wargo/Getty Images Entertainment/Getty Images
Maci Bookout's Kids Are *Way* Cute
All of the Teen Mom OG stars have been through a lot, but the past few years have been particularly tumultuous for Maci Bookout, who suffered a miscarriage and had some drama with the father of one of her children, Ryan Edwards. But how many kids does Maci Bookout have altogether? The 26-year-old has a growing family.
Bookout has 9-year-old son Bentley with Edwards and two other kids, 3-year-old Jayde and 2-year-old Maverick, with her husband Taylor McKinney. This season on Teen Mom OG, she and McKinney discussed possibly adopting another child in the wake of her miscarriage the previous year. On the show, they called an adoption counselor and even spoke to Bentley and Jayde about it. Bentley was pretty stoked to have another younger sister or brother to play with, actually. On the show, McKinney was the one who brought it up. He said, "I know you said you don't want to be pregnant again, so this seems like the next best option."
Bookout explained that it wasn't that she didn't like being pregnant. "It's just that whenever I think about having another biological child, I immediately go back to that baby that we lost," she said on the show. "If you seriously want to have another baby, then I'll do it. But I still want to adopt too," she added.
Bookout continued saying, "I think we still have some grieving to do before we have fully accepted what happened. I just don't want to make that decision thinking maybe somehow it'll replace or fix the loss, you know? It's just too fresh." Luckily, McKinney said that he "totally understood" and was supportive of her plans. But that didn't stop them from meeting with Rachel, who talked to them about what he adoption process looks like.
She explained to the couple that including their three other kids in the process was essential. The counselor told the couple:
And some of them, an older child especially, is going to come to you damaged. There may be some irreparable harm there already, things that might take years for this child to overcome. If you can't handle that, or your children can't handle that stress then don't do it. You want a child that is going to mix with your family in the best way.
Adoption isn't something they decided on a whim, though. According to People, Bookout was actually planning on adopting her third child before she got pregnant with baby Maverick. She said, "We never planned on my getting pregnant again so soon after [Jayde] was born. Maverick was totally unexpected. When I found out I was pregnant, Jayde was still a baby."
She was kind of "doing it all" at the time. Bookout had her newborn daughter, was filming the show, and also launched a clothing line. It was a lot to take on. In her book, I Wasn't Born Bulletproof… Bookout writes, "Bentley was just getting settled in school and starting to play sports. All I could think was, 'How am I going to handle all of this? There's not going to be enough of me to go around.'"
It might not always be pretty when trying to juggle two kids, work, and a baby on the way, but Bookout and McKinney seem to have adapted quickly to three kids. So much so that they weren't worried one bit about any of the adoption counselor's warnings this season.
Whether or not they decide to try to become pregnant again or go for adoption, Bookout and McKinney definitely make a good co-parenting team for their three kids.