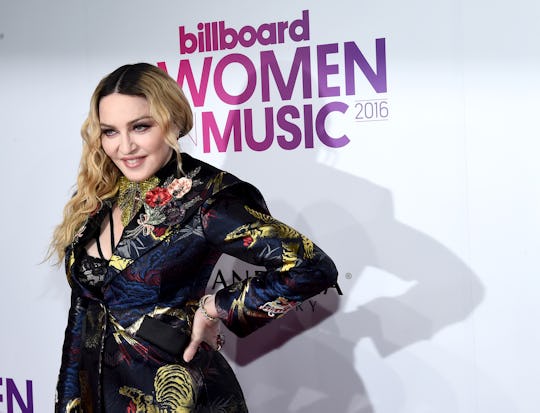 Ilya S. Savenok/Getty Images Entertainment/Getty Images
Madonna's Family Just Grew By 2
At 58 years old, Madonna has shown no signs of slowing down. Her latest album, Rebel Heart, is only two years old, and she spent much of 2016 on her Rebel Heart World Tour. Just when you think you've seen the last of Madonna, she surprises her fans with some exciting piece of news: a new single, a new album, a new tour date — but this time, the news is far more personal. According to People Magazine, Madonna adopted twin sisters from Malawi on Tuesday. How many kids does Madonna have? With her newest family additions, she's the proud mama of a whopping six kids!
Madonna finalized the twins' adoption on Tuesday, appearing in Malawi's High Court with both the girls' father and uncle as witnesses. Last month, Madonna denied rumors she was in Malawi with the intention of adoption more children. Following the adoption of a Malawi boy in 2006, Madonna founded Raising Malawi, a non-governmental organization supporting orphaned and vulnerable children in Malawi. The singer has already adopted two children from the African nation, and has two biological children of her own as well.
Madonna's life as a mom began well into her career as an entertainer: 38 years old at the time, Madonna starred as Evita Perón in the film adaptation of Andrew Lloyd Webber's musical, Evita, when she was pregnant with her first child.
Lourdes
Madonna gave birth to her daughter Lourdes Maria Ciccone Leon in 1996, while she was romantically involved with Carlos Leon, her personal trainer. It's almost hard to believe that Lourdes is 20 years old now and studying musical theatre at her mama's alma mater, the University of Michigan.
Rocco
Madonna began dating British director Guy Ritchie in 1998. Madonna gave birth to a son — Rocco John Ritchie — in August 2000. The day after Rocco's christening in December that year, Madonna and Ritchie got married in Scotland. The pair would divorce eight years later. In September of last year, Madonna lost custody of her son to her ex in a bitter custody battle over whether the now 15-year-old Rocco should live in the United States or England.
David
Madonna's family grew again while she was married to Ritchie, when in 2006, she adopted a Malawi boy named David Banda, who was 1 year old at the time. Banda's mother had died following complications from childbirth. His father, Yohane, told the Associated Press at the time that he was happy for his son and he knew David would "be very well looked after in America."
Mercy
After her divorce from Ritchie in 2008, Madonna sought to adopt another child from Malawi, but was initially rejected by the High Court. After appealing the court's decision, Madonna adopted Chifundo "Mercy" James, a 3-year-old girl, in 2009.
Stella & Esther
The twins — 4-year-old girls named Esther and Stella — were orphaned when their mother died just a week after giving birth to them in 2012; she had suffered complications from a C-section, according to People. After their mother died, their father was unable to care for them, and the girls were placed at the Home of Hope orphanage, from which Madonna adopted David.
Congrats to Madonna and her growing family.