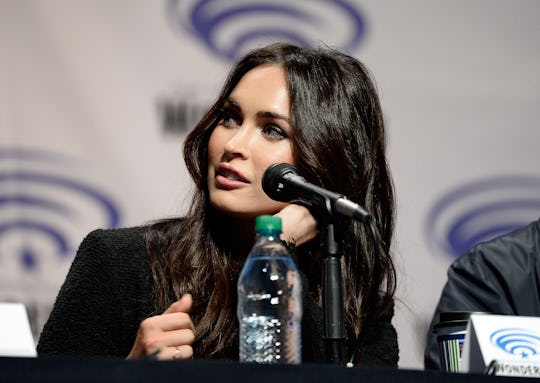 Frazer Harrison/Getty Images Entertainment/Getty Images
How Many Kids Does Megan Fox Have? She Might Have Another On The Way
On Monday, People reported Megan Fox is expecting after spotting a "bump" at the red carpet premiere of her latest film, Teenage Mutant Ninja Turtles: Out of the Shadows, but a rep for Fox had "no comment." But would this still-hypothetical baby be baby No. 1 or No. 2? Exactly how many kids does Megan Fox have? Fox had two children, 3-year-old Noah and 2-year-old Bodhi, with her now-estranged husband Brian Austin Green. And a third might be on the way.
Fox and Green filed for divorce last August year, after five years of marriage. However, according to Us Weekly, the two have remained friendly for their sons, and E! Online recently reported the couple was spotted at the Sweet Butter Cafe in Studio City, California, where they were alone at a movie theater just a few months ago.
But back to parenting: It is no secret Fox loves being a mom. In March 2013, she told Marie Claire motherhood is where her "heart is":
All I wanted to do my whole, whole life was have a baby and, now, I've finally done it...I just want to give Noah as much of myself as I can. And I want to have more kids. That is where my heart is.
Yet it doesn't appear Fox will be sharing her love of the movies with her children any time soon. In an interview with E! Online on at the premiere, Fox explained why she limits screen time for her kiddos:
Noah is too young and I try to keep them from television and movies for the most part. I think any sort of screen—whether it's television, iPad or iPhone—is really bad for their brain development so I try to remove that from their lives and I also want to deter them from ever being on social media because I think it's detrimental to a child's self-esteem. I have lots of opinions on this.
Fox continued:
I do let them watch Pixar movies. We do stuff like that. We watch Peter Pan together. [But] they have no idea what I do.
(Can you even imagine!)
So regardless of whether Fox is pregnant, again, I wish her and her cute clan nothing but the best.