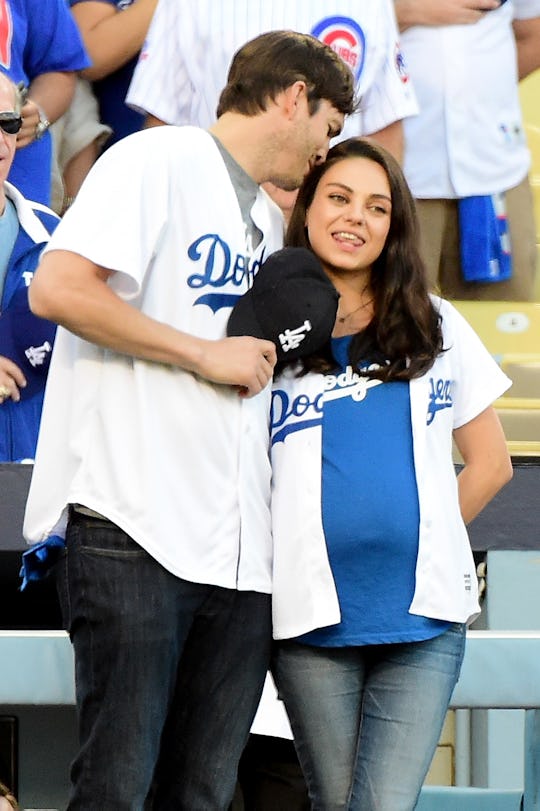 Harry How/Getty Images Entertainment/Getty Images
How Many Kids Does Mila Kunis Have? She Just Welcomed Baby No. 2
Mila Kunis and Ashton Kutcher have brought a new baby into their family, according to a representative for Kunis who confirmed the news in an email to Romper on Thursday evening. Though they've yet to release his name, the couple is undoubtably ecstatic about their new bundle of joy. He isn't their first, however. So how many kids does Mila Kunis have? In addition to their newest, the couple has one other child — a baby girl.
Kunis' daughter, Wyatt Isabelle, is 2 years old and so ready to be a big sister. Prior to the new baby's birth, Kutcher said that Wyatt would "[point] to Mila and she's like, 'baby brother,' when she points to the belly." A source also told E! News that this pregnancy has been a bit taxing on Kunis, saying: "She is feeling good, although taking care of a toddler while pregnant is different for her than the first time around, where she could rest a lot more." Luckily, Kunis had her husband's support, with the source noting: "Ashton dotes on her, though."
While the pregnancy itself may have been "taxing," Kunis herself noted that there were differences this time around, compared to her first pregnancy. "I forgot how far along I was today," Kunis admitted this past July, making note of stark distinctions between this pregnancy and her first. "I think with the first one, you're so enamored with the initial experience that I was constantly checking the app, 'What fruit size is the baby? Is it the size of a grape or an avocado?" It seems that, in their second pregnancy, Kunis has been able to sit back and enjoy the ride.
Announcing their attempts to have a second baby on The Ellen Degeneres Show this past May, Degeneres asked Kunis: "Do you want to have more children?" to which she responded: "Yeah. Absolutely." Degeneres pushed the issue a little further: "Are you trying?" Kunis responded affirmatively and told the host, "I'm always blushing on your show!"
Kutcher shared his parenting wishes on a talk show, too. previously telling Seth Myers, "First of all — our first girl is unbelievable. But also I figured if we had a girl second, [Kunis] might give me one more shot at having a boy."
Kunis was likely equally thrilled about their growing family. "After we had Wyatt," she told Ryan Seacrest this July, "the second I gave birth, I knew we had to have another baby." As for familial expansion beyond the two kids? "After the second one, we'll know if we need to have another one. I really do believe you know when your family is complete," she said.
The new Kunis-Kutcher baby is definitely lucky to have such excited parents — and an excited older sibling — to welcome him home. There might be more babies on the way, but, as for now, the two kids are probably plenty.