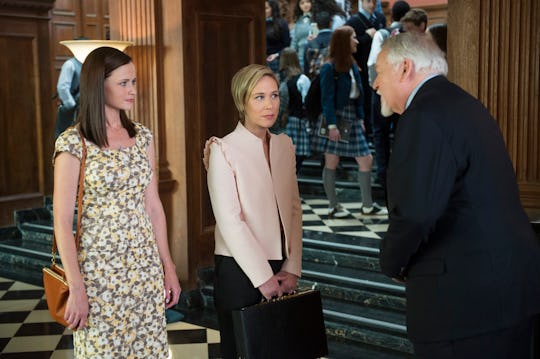 Neil Jacobs/Netflix
How Many Kids Does Paris Have In The 'Gilmore Girls' Revival? She's A Mother Now
After months and months of waiting, the Gilmore Girls revival has finally debuted on Netflix for all to see. And while obviously fans are thrilled to see the return of our favorite Gilmore girls, they've also been equally eager to see the rest of the Stars Hollow crew, including the one and only Paris Geller. And boy to our girl not disappoint. (Warning: This post contains spoilers from Episode 1 of the Gilmore Girls revival.) Rory's BFF proved to be just as tenacious and amazing as ever. In fact, she even runs the surrogacy and fertility clinic that Lorelai and Luke check out. But while her one-liners and overall personality is just as amazing as ever, her return also carried a few surprises with it, including the fact that Paris has kids in the Gilmore Girls revival.
That's right, my friends. Paris Geller is now a mother of two children and the father is none other than Doyle himself! However, this fairytale ending comes with a not-so-happy twist. Doyle and Paris were married, but are now since divorced, so they share time (and custody it seems) with their kids. "Frankly, it was over the minute he wanted to do something creative," Paris revealed to Rory, referring to Doyle's newfound career as a script writer.
Not to much else has been revealed about their relationship so far, but it should come as no surprise that Paris hasn't let the split slow her down in any way, shape, or form. In typical Paris fashion, she has thrived in her career and continues to succeed in ways fans never even imagined. Sure, I'm sad to hear that her and Doyle weren't able to make it last, but the great thing about Paris was that you never felt like she needed a man to make her character important. She herself was important regardless of whether or not she has a man in her life.
Truth be told, I could watch a spin-off of Paris' life any day of the week. Watching her explore motherhood or her job or whatever would be beyond amazing. But any amount of her we can get is a blessing and now knowing that there are future generations of Gellers out there is a comfort in and of itself. Let's hope they are just like their mother.