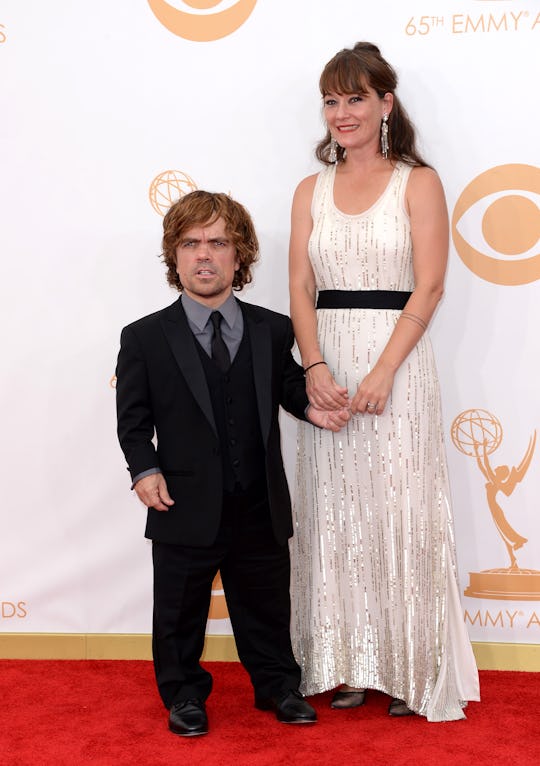 Jason Merritt/Getty Images Entertainment/Getty Images
How Many Kids Does Peter Dinklage Have?
Peter Dinklage is an American actor and film producer, and since 2011, he's portrayed the character of Tyrion Lannister in the HBO series Game of Thrones. The actor has won and been nominated for numerous awards, and has plenty of achievements to boast about in his professional life. But it's the latest news about Dinklage that likely has him the most proud: he and his wife Erica Schmidt are expecting a baby together. With this news, fans may be asking: how many kids does Peter Dinklage have, anyway?
Apparently, Schmidt is pregnant with their second child together, People reported on March 2. It was during an appearance at the opening night of The New Group's new play, All the Fine Boys — written and directed by Schmidt — in New York City, that they broke the news. Congratulations are clearly in order for the happy couple. As it turns out, they already have one 5-year-old daughter together, but they've never publicly revealed the little girl's name. So the 47-year-old actor will be the father of two once the new baby arrives.
According to Goliath.com, Dinklage has a form of dwarfism, achondroplasia, in which the bones of the arms and legs do not grow enough. Dinklage, as a result, stands only 4 feet, 5 inches tall. Because of how private he keeps his family life, it's not known whether his daughter shares the condition.
According to Entertainment Tonight, at the appearance in New York City, Schmidt placed her hand over her pregnancy bump for photos, and the cast of the production — which includes actresses Abigail Breslin and Isabelle Fuhrman — had some fun with it, surrounding her and placing their hands on her bump as well.
There are relatively few photos available publicly of the couple's first child, and they will likely be very private about their second child as well. Fans seem to respect the fact that the actor and his wife try to keep their family life quiet — for the most part, anyway.
Dinklage has also been in movies such as Ice Age: Continental Drift, X-Men: Days of Future Past, and Pixels, and in 2017, Dinklage was reported to be in talks to join the cast of the 2018 Marvel Studios film Avengers: Infinity War. But it's probably his upcoming "role" as a father of two that has him the most excited.
In 2012, People reported that Dinklage and Schmidt left their new daughter with a babysitter for the first time, and he told the publication he was fairly calm leaving her at home while they attended the Golden Globes. "Everything's fine — so far," Dinklage said. "She's a baby. Crying never killed anyone. Well, maybe that's not true." He reportedly joked that the key to staying relaxed while being apart from their daughter was: "It's all about the texting."
When the new baby arrives, there are sure to be adjustments for the actor and his talented director and writer wife. But with one daughter already, they have a little bit of practice in the parenting department to draw upon.