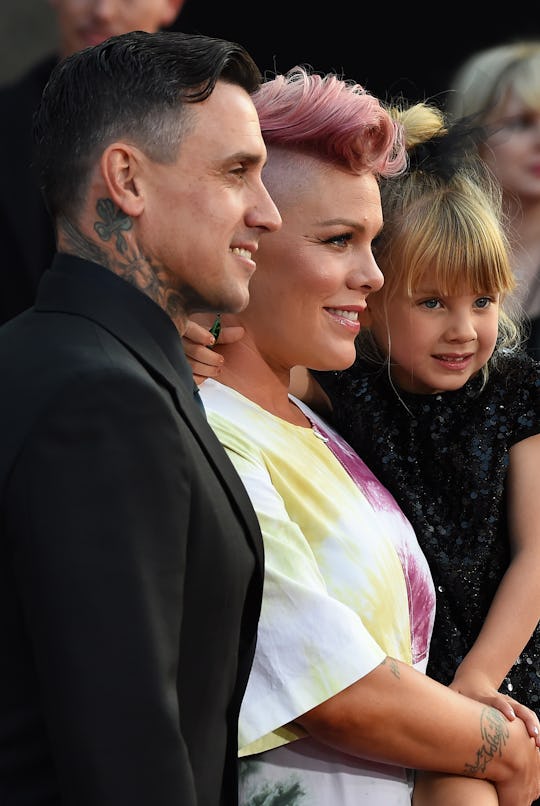 ROBYN BECK/AFP/Getty Images
How Many Kids Does Pink Have? Her Adorable Family Is Growing
Just a few weeks ago, singer-songwriter Pink announced some pretty exciting news on social media: Her family was about to get a little bigger. On Nov. 12, the 37-year-old pop star revealed on Instagram that she and her husband, Carey Hart, were expecting another child. The big news came in the form of a stunning photo of the singer, standing in a field and wearing a flowing white maternity gown with her 5-year-old daughter, Willow Sage Hart, beside her. The image was simply captioned, "Surprise!" It certainly was a surprise, perhaps even to the biggest fans, and now that the rock star has another baby on the way, some may be wondering how many kids Pink has, and what that child (or children) may think of the impending bundle of joy.
So far, Pink's cozy brood consists of herself, husband Hart, and little Willow, but it's adorably clear in all of Pink's recent social media posts that the she is beyond excited to welcome her second child to world. And by the looks of her growing baby bump, it could be sooner than fans had expected.
Just three days ago, for example, the "Just Like Fire" singer posted a photo of her very pregnant self sitting down on the floor of her kitchen, taking a little rest while heating up a cup of coffee. "When microwaving your decaf coffee becomes an excuse to sit on the floor and rest for a while," the soon-to-be mom-of-two captioned the hilarious shot.
And the cuteness just keeps coming: With just one look at her recent photos, it's obvious that it's not only Pink who is excited for the new arrival. Last week she posted an adorable photo of her daughter Willow practicing diaper duty for when her new sibling arrives. "Dry Run," she captioned the photo of her toddler. For her part, little Willow looks like she's got the whole diaper thing down, at least on her American Girl doll.
Every pregnancy is different and every child brings his or her own challenges, but it's clear that Pink — who has been vocal about motherhood on many occasions — is excited for how another child might change her life for the better, just like her first child did.
In an interview with People last year, Pink told the magazine:
I have lived a lot of life in a very short time, and you get hardened a little bit — you get jaded, you build up walls. And when you see this little kid, and you get to watch them through infancy to toddler to little person, it's amazing.
Although Pink's latest posts on social media didn't reveal anything more than her family's excitement at becoming a team of four, fans can rest assured that the announcement of her newborn's arrival will bring with it a whole new set of challenges, sweet moments, and adorable baby photos.