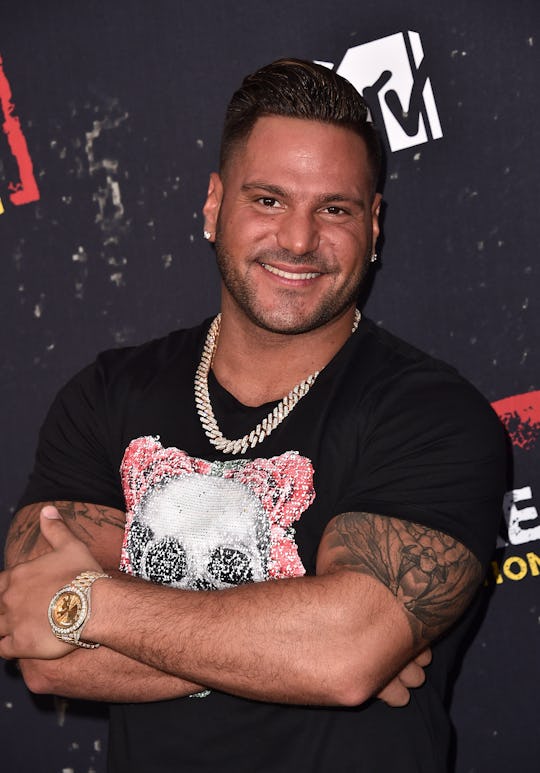 Alberto E. Rodriguez/Getty Images Entertainment/Getty Images
'Jersey Shore's Ronnie Ortiz-Magro Just Welcomed A Baby Girl, But How Many Kids Does He Have?
The wait is finally over, Jersey Shore fans! That's because the reunion series, Jersey Shore Family Vacation, premieres Thursday night on MTV, and nearly all of your favorite originals — aside from Sammi — will be there for it. This time around, though, everyone is older and wiser. And did I mention most of them are parents now? You might have noticed some exciting headlines about Ronnie Ortiz-Magro welcoming a baby girl this month. As such, it's only fair to wonder how many kids Ronnie Ortiz-Magro has now.
Ortiz-Magro and his girlfriend, Jen Harley, welcomed their first child together on April 3, according to Us Weekly. So far, there's no word on the newborn's name or weight/height stats, and the new parents haven't yet shared a photo of their baby girl. However, Jersey Shore cast mate Nicole "Snooki" Polizzi, shared a little about the baby girl's looks. "The baby looks just like Ronnie," she told People on Wednesday, at the New York City premiere part for Jersey Shore Family Vacation. "She's tanner than me! I'm annoyed."
Polizzi continued in the same People interview, "After talking to Ronnie, he's already a dad from day two. He's like, 'This is the best feeling ever — my life has totally changed, I'm a completely different person.' I'm like, 'Welcome to the club, babe.' And Ronnie's so good with kids."
Ortiz-Magro revealed back in December that he and Harley were expecting their first child together, as Us Weekly reported, and at that point, they already knew they were expecting a girl. The father-to-be joked that, "every guy wants a boy," according to Us Weekly. However, since he grew up with sisters, he is, "used to being around girls."
Ortiz-Magro even shared some photos from what looks like a sex reveal party. And from the looks of it, he was seriously hoping for blue feathers instead of pink. "Ok this is The face you make when pink feathers come out of the popped ballon, instead of blue!" he captioned the shot. A slew of hashtags followed, including: #AMillionThingsWentThroughMyHead, #JesusHowMuchIsTheWeddingToCostMe, #AllGirlCatholicHighSchool, #NoCellPhoneUntilShesMarried, and more.
In fact, a fellow Jersey Shore cast mate, Jenni "J Woww" Farley sent him a text message about the fact that he was going to have a daughter. "Karma's a b*tch," she told Us Weekly. "I was like, 'Remember all those girls? The hearts you broke? Now you're gonna try and make sure that your daughter doesn't have the same thing happen to her."
It's worth mentioning that Ortiz-Mago's girlfriend, Jen Harley, has an 11-year-old son from a previous relationship, according to Cosmopolitan, although it's not clear what exactly Ortiz-Mago's relationship is with him.
So, for now, it looks as if Ortiz-Magro is a father of one — and that he doesn't necessarily have plans, for the time being, of adding more children into the equation. Because judging by his long list of hashtags on that pink confetti photo — including #CouldWouldaShouldUsedARubber — it seems as if this baby was a surprise, but something he's clearly beaming about. Maybe once he finds his parenting groove, baby fever will come out of nowhere and he'll be willing to "try" for another. Or not, only time will tell.
In the meantime, I'm sure fans are pumped to catch up with Ortiz-Magro and the rest of the Jersey Shore crew — after a five-year hiatus — on their new series. Who knows? Maybe viewers will get to catch a glimpse of his baby girl in the near future!