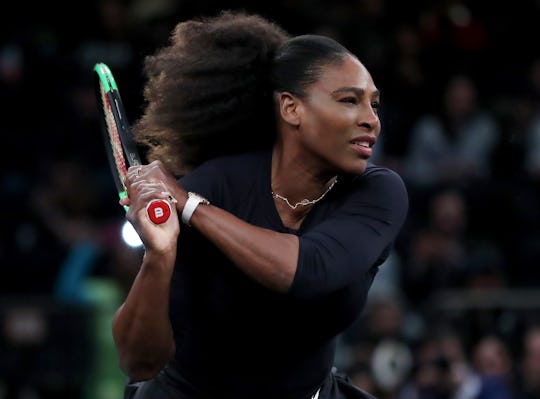 Elsa/Getty Images Sport/Getty Images
Serena Williams Revealed How Many Siblings She Wants Little Alexis Olympia To Have
Serena Williams' pregnancy with baby Alexis Olympia Ohanian Jr. may not have exactly been planned — but the fierce tennis legend has already proven she's a pretty kick-*ss mama. I mean, she won the Australian Open while pregnant, for Pete's sake. (Which isn't exactly an easy feat for a non-pregnant competitor.) And following scary complications after giving birth to her daughter, Williams even diagnosed her own health crisis and had to basically convince health care providers to save her life. Now that she has returned to her tennis career, Williams recently offered a little insight into her future family plans. So how many kids does Serena Williams want? The tennis pro is already thinking about siblings for Alexis Olympia, that's for sure.
In a new interview with Entertainment Tonight, Williams recently opened up about how she balances her career and motherhood. Hint: Her kid comes first. "Working motherhood is real. It's so real," she told the news outlet. "But I have my priorities and Olympia is that ... But I'm never a day without Olympia. She's my priority and everyday I need to be home with her. I don't wanna miss any moments with her."
I mean, with a kid as cute as baby Alexis, who could blame Williams? Just look at those irresistibly kissable cheeks!
Besides juggling the demands of working motherhood, something else on Williams' mind is giving little Alexis Olympia a sibling in the future. "I definitely want two [kids], God willing," she told Entertainment Tonight. "But right now, I want tennis as well. So, I'm going to wait and see what happens." She added:
It's definitely not easy. I have this undying drive to be the best that I can be. Whether it's [being] a mom or playing tennis or doing my designing. I just want to do the best that I can.
Since her daughter's birth, Williams has been very open about the health complications she faced immediately following childbirth. As People reported, Williams delivered a healthy baby girl via emergency C-section on Sept. 1. However, as the new mom was recovering from the surgery, she suddenly became short of breath, as Vogue reported. With a known history of blood clots, Williams had a hunch about what might have been the culprit. It definitely took some convincing, but doctors ultimately performed a CT scan — which revealed a pulmonary embolism, according to People.
But the health scares didn't stop there. Because the pulmonary embolism caused her to cough so much, Williams' C-section wound ended up re-opening, according to Vogue. And then, when doctors went in to re-close the wound, they discovered a large hematoma in her abdomen, which required another procedure to prevent clotting.
"I am so grateful I had access to such an incredible medical team of doctors and nurses at a hospital with state-of-the-art equipment," Williams wrote in an essay for CNN recently. "They knew exactly how to handle this complicated turn of events. If it weren't for their professional care, I wouldn't be here today."
If you remember, Williams accidentally announced her pregnancy back in April when she publicly shared a bump photo that was meant to stay private. "I was on vacation just taking some time for myself and I have this thing where I've been checking my status and taking pictures every week to see how far along I'm going," Williams told People. "I didn't tell a lot of people to be quite honest and I'd been saving it." She continued:
On social media, you press the wrong button and… Thirty minutes later I missed four calls and I'm like, "That's weird." But it was a good moment. I was only going to wait five or six more days [to share].
Although Williams' pregnancy with Alexis Olympia may not have come at the most opportune time — as she revealed to Vanity Fair — it seems like the tennis legend is thriving in her new role. It makes sense that she'd be open to adding at least one more little one to her brood one day. So the real question is: Will baby Alexis Olympia be getting a sibling before or after Williams beats the all-time grand slam record of 24 wins? Only time will tell.
Check out Romper's new video series, Bearing The Motherload, where disagreeing parents from different sides of an issue sit down with a mediator and talk about how to support (and not judge) each other's parenting perspectives. New episodes air Mondays on Facebook.