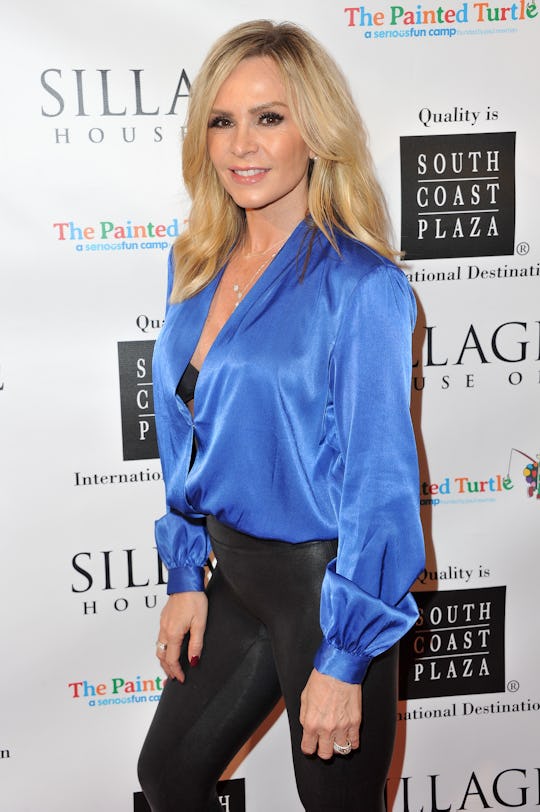 Allen Berezovsky/Getty Images Entertainment/Getty Images
Tamra Has A Complicated Relationship With Her Eldest Daughter On 'RHOC'
Tamra Judge's complicated relationship with her children has been well-documented on The Real Housewives of Orange County over the years. While she's close to some of her kids, she's had difficulty connecting to her eldest daughter after her divorce from second husband Simon Barney. But how many kids does Tamra Judge have?
Tamra has four children in total from her first two marriages; Eddie Judge is her third husband. Tamra married Darren Vieth in 1985 and welcomed her son Travis in the same year; these days he's all grown up and even has a child of his own, Tamra's granddaughter Ava. Then in 1998, Tamra married Simon. Together they had three children: Sidney, Spencer, and Sophia. The last time viewers saw the Barney children on RHOC, they were little kids, but now they're teenagers — and, in the case of Sidney and Spencer, high school graduates.
Tamra has had a complicated relationship with her younger kids because her separation from Simon was contentious. Her estrangement from Sidney in particular was often a topic of conversation on the show, though it seems Tamra is close enough to Spencer to have celebrated his graduation on her Instagram in June of this year.
In previous seasons of RHOC, Tamra explained that she felt "erased" from her daughter Sidney's life, though she was always open to mending their relationship one day. There have been positive steps forward, like Tamra attending Sidney's high school graduation, but also numerous setbacks. In 2017, Sidney wrote a long Facebook post in which she stated that Tamra was "no mother to me" and alleged that Tamra was neglectful and created a "toxic environment" at home. Sidney wrote:
I have explained this to [Tamra] numerous times in court, in therapy, and when we would meet up that the ONLY reason I am not living with her is because she continues to do the things that pushed me out of her house. Like talking about me on the show/press/social media, doing embarrassing things on the show, lying to me and putting herself first to name a few.
Sidney wanted to stay out of the public eye and not be associated with RHOC, so it bothered her any time Tamra mentioned her on the show or on social media. Though they have spoken throughout the years, progress appears to be slow going, as Tamra told Entertainment Tonight that there wasn't "a whole lot of movement between the two of us." However, she remained hopeful.
It seems like Tamra is still close to Spencer and Sophia, who make regular appearances on her social media accounts. Both kids went on vacation with Tamra and Eddie in 2017 too, according to Reality TV. And Page Six reported that Tamra referred to Sophia as her "mini me." She went on to say, "It's even hard for [Sophia] to go to her dad's house, just because she wants to be with me all the time. So, I just hope it stays like that. It's hard, because divorce just brings out the worst in a family situation and the kids, really, get put in the middle."
Tamra might not have an ideal relationship with all her kids, but there's always the chance that one day it could improve.