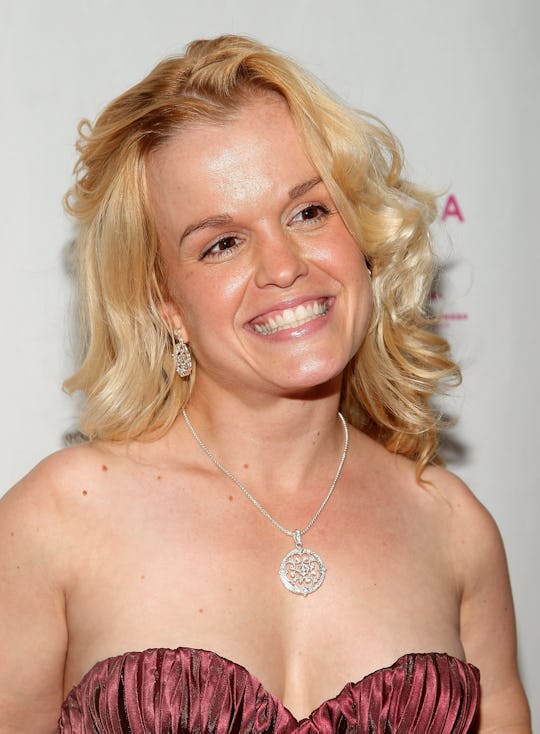 Michael Loccisano/Getty
How Many Kids Does Terra Jole Have? The 'Dancing With The Stars' Star Is A Proud Mama
The competition is getting awfully close on Dancing With the Stars as fans enter the final few weeks of Season 23 of the show. One star in particular has surprised audiences with her incredible attitude and dancing talent, and that is Little Women: LA star, Terra Jolé. In addition to facing particular challenges due to being a little person, Terra is also a mom to a newborn, which obviously makes the grueling rehearsals all the more difficult. How many kids does Terra Jolé have? At the moment, she's got two little ones at home, and they are both babies.
Terra's oldest child, her daughter Penelope Charlevoix, was born in the spring of 2015, just a few months before Terra's wedding to her longtime boyfriend — and Little Women regular guest star — Joe Gnoffo. This means that Penelope (or Penny as she's often called) is still basically an infant herself at just a year and a half old. Her brother, Grayson D'artagnan, was born in August of 2016, mere weeks before Terra was set to start on Dancing With the Stars. Not many women are ready to enter an ass-kicking dance competition immediately after giving birth, so for that, I have nothing but the utmost respect for Terra.
Terra's daughter, Penny, is little, like her parents, but from the looks of things on social media, Grayson could be average sized. Terra hasn't discussed it very much, only enough to reiterate that she obviously loves both of her children very much regardless of their size. And who wouldn't love them? These kids are so cute and I just want to squeeze their chubby little legs.
Being so close in age and still so young, I can't imagine that it's easy for Terra to be both a mom and keep up her hectic rehearsal schedule, especially since small children are not known to be awesome when it comes to respecting their parents' schedules. But she's doing it and doing it so well. Amazingly, Terra is not even the first new mom to be on the show. Season 22 Ginger Zee went on the show soon after giving birth to her son via C-section, and fellow competitor Jana Kramer had her daughter just a few months ago. Basically, let's give it up for all of these mamas, who are essentially superwomen.