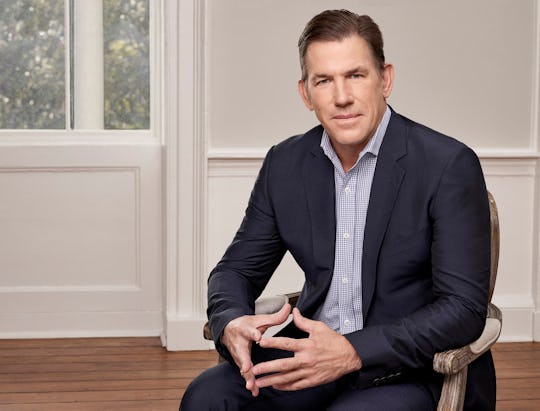 Rodolfo Martinez/Bravo
How Many Kids Does 'Southern Charm's Thomas Actually Have?
Southern Charm star Thomas Ravenel is one of the latest celebs to fall under sexual assault allegations. The star of the hit reality series refutes the allegations and considers himself a good family man, dedicated to his kids. But just how many kids does Thomas have?
Thomas has two children with his now ex, Kathryn Dennis, who also co-stars on the reality series. The births of both of their children, as well as their tumultuous relationship, has played out over the course of the show's five seasons. Thomas' kids are daughter Kensie, 4, and son Saint, two-and-a-half years old.
Unfortunately, one of the multiple women to accuse Thomas of sexual assault is the family's nanny, known simply as "Nanny Dawn," on the show. Dawn took care of both of Thomas' children. Dawn claimed Thomas tried to kiss her after she came back from a night out with friends.
"I told him 'this isn't appropriate. I work for you.' He then hugged me as an alternative," she told People magazine. "I had baby bottles in my hands, so I couldn't hug him. It felt like he was putting his weight on me." She claims the situation then escalated when she went upstairs to get her jacket and Thomas allegedly corralled her into the master bedroom. He then allegedly dropped his pants and blocked the door.
Dawn wouldn't give any more detail after that, only claiming that Thomas is being investigated for "first-degree forcible rape." Along with Dawn's accusations, real estate agent Ashley Perkins alleges her mother, Debbie Holloway Perkins, was allegedly assaulted by Thomas. Ashley claims her mother signed a non-disclosure agreement with Thomas and received $200,000. Thomas, who is also a former South Carolina state treasurer, vehemently denies the accusations.
"My client enjoys a certain degree of fame, which has unfortunately made him a vulnerable target for such claims," Thomas' attorney, Richard P. Terbrusch, told People magazine in a statement. "The person this woman describes is simply not the man that I know. My client is a loving father, successful businessman, and upright member of the community. He is appalled and hurt by these allegations — and is committed to defending his reputation in the appropriate legal forum."
While Thomas continues the fight to clear his name, Bravo announced that he will not be participating in the reunion show for Southern Charm Season 5. A rep from the network confirmed the news with People magazine on June 5. That said, just a day prior to that announcement, Bravo said that Thomas did still have his job on the show, at least for now. It seems the network is standing by Thomas at this time, at least until the investigation into the situation is completed.
Fans will definitely miss seeing him on the upcoming Southern Charm reunion though, that's for sure.
Despite skipping the reunion, Thomas seems to be doing fairly well otherwise. Recently he reunited with Kathryn for Kensie's dance recital. Although the two are no longer romantically involved, they appear to be happily co-parenting together. Kathryn even shared a photo of them with Kensie writing, "What matters most? My daughter's happiness. #thisiscoparenting #herfirstdancerecital #proudmom."
Thomas also shared some cute pics of his own and he also posted cute videos of himself and Kathryn dancing together to Britney Spears as Saint sat on the floor nearby. Thus, it looks like despite everything else going on in his life, Thomas is keeping his family at the forefront.
The Southern Charm reunion hasn't begun filming yet so it's unclear when exactly it will air, but Thomas' absence will surely be noted, so this is one you won't want to miss.