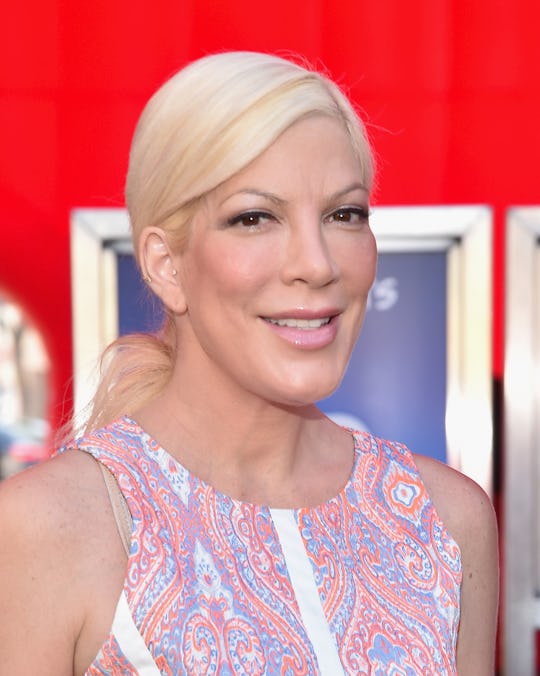 Alberto E. Rodriguez/Getty Images Entertainment/Getty Images
Tori Spelling's Big Family Just Grew By One More
Actress Tori Spelling just welcomed her newest child with husband Dean McDermott yesterday, adding one more to the McDermott pack. So how many kids does Tori Spelling have now? With the recent birth of Beau Dean, Spelling and McDermott are now parents to a brood of five children, all under age 10. McDermott also has an 18-year-old son, Jack, from a previous marriage. It definitely sounds like a busy household!
The star of 90210 and True Tori wasn't exactly planning on adding another tot to her family when Beau came along. "It was a total surprise," she told People in October, when she first announced her fifth pregnancy. "Dean was saying, 'We just got Finn out of diapers; I thought we were in the clear!' For the first time this year, they're all in school. So it's like, wow. We're basically starting over."
Spelling and McDermott were happy to do so, though. "We always wanted a big family," Spelling told People. The couple, who have been married for nearly 11 years now, are already raising 9-year-old Liam, 8-year-old Stella, 5-year-old Hattie, and 4-year-old Finn. "I'm really excited."
I also feel like it's important to mention that the Spelling-McDermott family owns a miniature pig named Nutmeg. I mean, is there anything that completes a family quite like a miniature pig named Nutmeg? No, I didn't think so.
Spelling's pregnancy with Beau was a lot less stressful than her 2012 pregnancy with Finn, in which she was diagnosed with placenta previa, a condition in which the placenta lies low in the uterus and can cause bleeding and other complications, according to Baby Center. "My pregnancy with Finn was really difficult and there was a health condition, but the baby and I got checked out," she told Us Weekly while pregnant with Beau. Her pregnancy with Beau was fairly carefree in contrast, and she said her baby bump was the "fashion accessory of the season!"
Now that Beau's been born, the whole family is celebrating. "We are over the moon in love with baby Beau," Spelling told People on Thursday. "He is a true blessing and his brothers and sisters were overjoyed to meet him! We are all truly grateful for our big beautiful and healthy family."
Luckily, Spelling and her brood just moved to a new home in Woodland Hills, California, in December, according to E! News, so they'll have plenty of space for their family of seven. But with six kids, a husband, and a miniature pig in tow, something tells me Spelling is going to need some kind of next-level mini van soon.