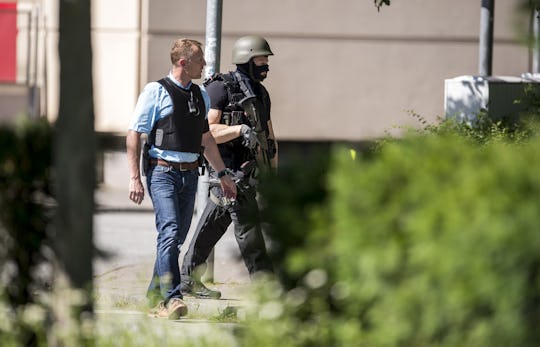 Alexander Scheuber/Getty Images News/Getty Images
How Many Mass Shootings Has Germany Had? The Country Has Strict Gun Laws
This morning, Reuters reported that a masked shooter had reportedly opened fire on a movie theater in the small town of Viernheim, outside of Frankfurt, Germany. So far, between 20 and 50 people have been reported injured, according to Reuters. Since the deadly attacks on Paris last November, there has been little news of shootings in the European Union. How many mass shootings has Germany had? The country's gun laws are strict.
UPDATE: The Associated Press and Reuters report no serious injuries during the movie theater incident in Viernheim, Germany. The gunman, who took theater-goers hostage, has been killed by police, according to authorities.
According to The Guardian, no deaths have been reported other than the shooter himself. So far there is no sign of a motive, but officials are investigating if the incident was a result of a botched robbery or linked to a political group or an ideological cause. The Associated Press reported that the man entered the Kinopolis, fired a gun, and took several hostages. A police spokeswoman named Christiane Kobus told the Associated Press that law enforcement officers "successively entered the cinema and were able to locate the man and the people he was holding. There was a threat situation and the man was then shot dead by a colleague." The police operation lasted about three hours, during a hot afternoon when the theater was reportedly relatively empty.
Given Germany's extremely low number of deaths due to gun violence, this mass shooting comes as a shock to its citizens and lawmakers. Since 2009, the country has been systematically tightening gun control regulations, and up until this point, their efforts to reduce the number of gun owners and shootings have been very successful.
The impetus for change was when Germany had two devastating school shootings (one in 2002 and one in 2009). After that, they worked to make their gun control some of the strictest in the world. According to the Los Angeles Times, they've reduced gun-related deaths by half, to around 50 per year. To put that number in perspective, this past May, 66 people were killed by guns just in Chicago, Illinois.
According to The New York Times, the deaths from the school shootings in Germany were so widely mourned that there was hardly any protest when lawmakers passed measures making gun ownership much more difficult. Their strict laws are unique, but effective. They are the only country where anyone under 25 years old has to take a psychiatric exam before being allowed to apply for a gun license. If they pass, they have to wait a year to apply for a gun, pass skills tests, and have a proven reason for owning a firearm. There was overwhelming support for the new laws. The Los Angeles Times reported that 200,000 guns were even turned over to the government voluntarily.
Germany's wide adoption of gun safety measures marks a stark contrast with the gun control debate currently raging in the United States since the tragic mass shooting in Orlando, Florida.