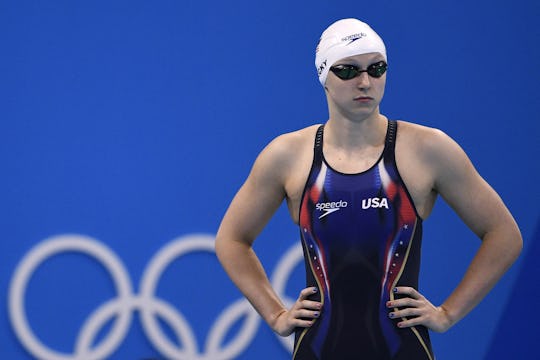 MARTIN BUREAU/AFP/Getty Images
How Many Medals Has Katie Ledecky Won So Far? She's Expected To Win Big
American swimmer Katie Ledecky started off her second Olympic appearance with the chance to earn as many as five medals throughout the Rio de Janeiro games, and on Sunday she secured her first one. The now-19-year-old already took home an unexpected gold in the 800-meter freestyle during her debut Olympics in London in 2012, and she splashed into 2016 by anchoring the 4x100 freestyle relay that added a silver medal to the United States' already-growing cache. Because she's expected to win big, the Olympian's fans are already tallying up how many medals Katie Ledecky has won so far with the confidence that there are many more to come.
Update: On Sunday evening, Ledecky won her first Rio gold medal in the women's 400m freestyle, beating her previous world record with a time of 3:56.46 and bringing her medal count to two... and counting.
Ledecky actually started off her sophomore Olympics with the potential to become the first American woman to win five gold medals at the Olympics, as she would compete in three individual freestyle events and two relays. That didn't happen, because her relay team finished 1.24 seconds behind their Australian opponents Sunday. But this is a woman whom the Michael Phelps has described as a "stud," and, oh yeah, she set 11 world records.
The Bethesda, Maryland, native may have started out as a 6-year-old swimmer unable to finish just one lap without grabbing hold of the lane ropes, as Slate reported, but she soon evolved into a fierce and determined competitor who slept with her goals times by her bed and didn't shave her legs for months in order to create as much drag as possible during practice, and therefore an optimally tough workout, every time.
Now, Ledecky's training partners are exclusively men, because they're the only ones who can actually keep up with her during grueling practices, as The New York Times Magazine reported. Despite that — and her capacity to win really, really big at the Olympics this year — Ledecky has opted not to go pro, instead retaining her amateur status and, therefore, forgoing the chance at getting endorsement deals. That's because she's headed to Stanford University in the fall, where she'll swim on scholarship.
And her commercial value could be huge: Sport-industry analyst Matt Powell told NYT Magazine's Michael Sokolove that her potential endorsements could be worth between $10 and $15 million per year. But it's clear that her swimming potential — specifically, her ability to propel herself through the water fast, fast, fast — is what's most important to Ledecky. That drive shows: In 2015, she had some seriously motivational advice for young girls, as she told TODAY.com:
I would encourage you to set really high goals. Set goals that, when you set them, you think they're impossible. But then every day you can work towards them, and anything is possible so keep working hard and follow your dreams.
So, that's how you become the next Michael Phelps? Because if she does well (and she almost certainly will), experts are saying that's the direction Ledecky is headed. She still has four more events to complete this Olympics, and there's a really, really good chance she'll win gold in each one. Considering that Phelps is now competing in his fifth Olympics, if Ledecky truly is going to emulate the trajectory of his career, she'll be making the United States proud for years to come.