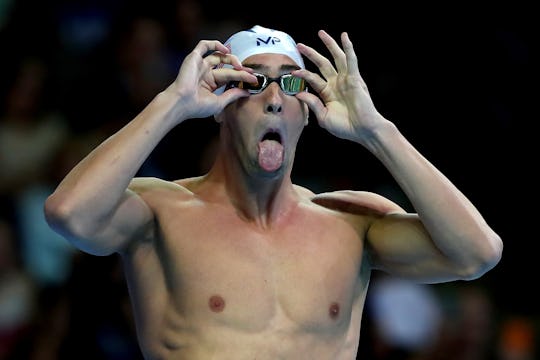 Tom Pennington/Getty Images Sport/Getty Images
How Many Medals Has Michael Phelps Won? He's No Small Contender
The United States' greatest swimmers are getting ready to face off once again: On Friday night, Olympic champion Michael Phelps will swim against Ryan Lochte at the United States Olympic trials. The two qualified first and second for the men's 200-meter individual medley final, which is where they'll face off tonight. With Phelps as the 31-year-old reigning champ, some are wondering exactly what Lochte's up against. Phelps will be no easy defeat: Throughout his career, Phelps has won 18 Olympic gold medals (and 22 Olympic medals in total).
With his first place win at the 200-meter butterfly qualifying race at the Olympic trials on Wednesday, Phelps has reserved his spot for his fifth Olympics — making him the first male swimmer to achieve that honor. He's also come quite a ways in order to make it to where he is today, on his way to the 2016 Olympics in Rio.
After winning eight medals at the 2012 Olympics in London and receiving an award to commemorate his status as most-decorated athlete, Phelps retired from swimming at age 27. "It's kind of weird looking at this and seeing 'Greatest Olympian of All Time,'" Phelps said, according to The New York Times. "I finished my career the way I wanted to. I think that's pretty cool."
But then Phelps decided, Hey, just kidding, I want to get back in there. In 2014, 14 years after he finished his first Olympics in Sydney at age 15, he announced that he would be jumping back into training. Phelps then got engaged to girlfriend Nicole Johnson in February 2015, and the two just welcomed a son, Boomer Robert Phelps, in May this year.
"One of the coolest things about being a father going into Rio is that our firstborn has the chance to see my last race ever," he told Us Weekly recently. "I think that's something that'll be really special that we'll be able to share stories with him, you know, from the time he gets old enough to realize, and I'm excited to have a lot of photos and just to share the moments and memories with him growing up as a kid."
Between becoming a father, getting engaged, going to therapy after receiving a DUI, and coming out of retirement, Phelps has recognized that coming back for a fifth Olympics is no small victory. "I think that means the most to me," he said after qualifying, according to The Baltimore Sun, continuing:
With everything that's happened to me, sort of being able to come back, that was probably harder than any swim I've had in my life. … Just being able to finish [my career] how I want to is so important to me.
It sounds like Phelps' dreams keep evolving and growing bigger — and baby Boomer will have a great role model to live up to as Phelps dives into the Olympics once more.