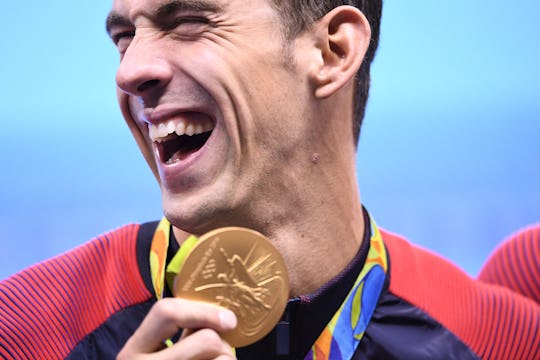 GABRIEL BOUYS/AFP/Getty Images
How Many Medals Has The U.S. Swimming Team Won? Short Answer: A Lot
There is one week left of the 2016 Rio Olympic Games, which means that athletes from all over the world will have one more week to prove they're the best at their sport and fight for Olympic gold. Every Olympic audience member has witnessed the pure joy with which the United States has celebrated the amazing performances from its various teams, especially the seemingly endless stream of gold medals being produced by the U.S. swimming team. But in reality, how many medals has the U.S. swimming team won during its time in Rio? The answer is unsurprising — the team has simply been dominating the competition in the past week.
Unfortunately, lovers of The U.S. swimming team won't see much more of swimming on their televisions or on Olympic live streams. There is only one last swimming event in the last week of the Olympics — marathon swimming. And those won't be seeing much of Michael Phelps in his swim cap — Phelps competed in his last race on Saturday night.
But just because Olympic swimming is practically over for 2016 doesn't mean fans have to be sad about it. The U.S. Swim Team has a lot to show for its performance in the 2016 Rio Olympics — not only do the swimmers have world records and headlines that cite history in the making, but they also have their overall Olympic medal count.
The U.S. Swim Team so far has won a staggering 33 Olympic medals this year, including a total 16 gold medals, eight silver, and nine bronze.
In fact, the U.S. Swim Team's lead is utterly decimating: The runner up for Olympic medals in swimming is Australia, which won 10 total medals for its 2016 swimming performance. The U.S. Swim Team, by comparison, also contributed over half of the current medals won by the United States in total — which is 60 as of Sunday morning. Talk about powerful.
The team has also seen some amazing performances over the past week. Michael Phelps won his 23rd gold medal on Saturday, adding to his collection of 28 Olympic medals won and making him the most decorated Olympic athlete of all time. Simone Manuel, the first black woman to win an individual Olympic swimming medal, came away with four medals. Katie Ledecky, whose name is constantly mentioned due to her incredible performance in Rio won a total of five medals and broke multiple world records.
Additionally, Maya Dirado and Nathan Adrian contributed a total of four medals to the U.S. Swim team with Ryan Murphy contributing three. Lily King, Caeleb Dressel, and Anthony Ervin contributed two medals to swimming, according to Google Medal Count.
While swimming might be practically over in the 2016 Rio Olympics, the amazing performance put on by the U.S. Swim Team will not be forgotten any time soon. It's members have broken records, made headlines, announced retirements following thrilling days of staggering record-breaking performances. Of course, the won't be going away — expect to see the U.S. Swim Team again, back and stronger than ever, in four more years.