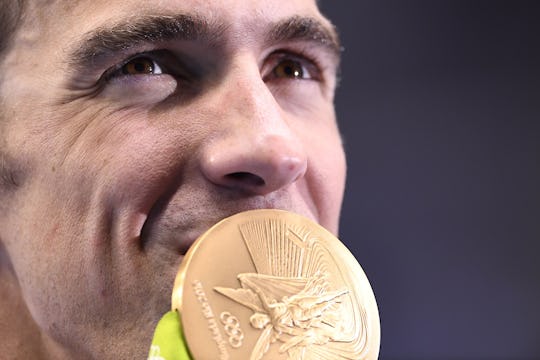 GABRIEL BOUYS/AFP/Getty Images
How Many Medals Has The US Won At The Rio Olympics? The Official Count Has Begun
The Olympic Games are fun enough to watch for the exciting competitions, but even more fun when your country takes home the gold medal earning international bragging rights for the next two years. Lucky for Americans, our athletes have a history of putting in top notch performances when it really matters, so it's reasonable to assume the U.S. medal count at the Rio Olympics will likely be the same. U.S. athletes have been awarded a total of 2,400 medals at the Summer Olympic Games and 281 at the Winter Olympic Games over the years. The U.S. has won the most gold and overall medals out of every country in the summer Games. At the Winter Games, however, we trail only Norway. You know, not to brag or anything.
Track and Field, along with swimming, are the strongest American competitions. Michael Phelps has taken home 22 Olympic medals, more than any other Olympic athlete in history. The U.S. Women's Soccer team has won four of the five gold medals handed out in the history of women's soccer at the Olympics, as well. The bar is set high for the American athletes competing in Rio, but if history is any indication, they're going to make their country proud.
The United States has been a top medal earner in the last three summer Olympics and is predicted to continue its hot streak in Rio. Russia, one of America's strongest competitors, has seen an unfortunate amount of disqualifications amongst their athletes leading up the games. This opens up a vast amount of opportunity for American athletes to go for the gold. Even with Russia's disqualifications, though, it's still going to be an exciting few weeks watching the United States compete in all the competitions from beach volleyball to gymnastics. Hopefully, Team USA will have many athletes standing on the highest podium throughout the Rio Olympics.
How The Medal Count Breaks Down So Far:
** This list will be updated regularly; Sports are listed alphabetically.
*** As of Monday, Aug. 22, here's the final American medal count:
Archery: Gold — 0 ; Silver — 1 ; Bronze — 1
Badminton: Gold — 0 ; Silver — 0 ; Bronze — 0
Basketball: Gold — 2 ; Silver — 0 ; Bronze — 0
Beach volleyball: Gold — 0 ; Silver — 0 ; Bronze — 1
Boxing: Gold — 1 ; Silver — 1 ; Bronze — 1
Canoe slalom: Gold — 0 ; Silver — 0 ; Bronze — 0
Canoe sprint: Gold — 0 ; Silver — 0 ; Bronze — 0
Cycling - BMX: Gold — 0 ; Silver — 0 ; Bronze — 0
Cycling — Mountain bike: Gold — 1 ; Silver — 1 ; Bronze — 0
Cycling — Road: Gold — 1 ; Silver — 0 ; Bronze — 0
Cycling — Track: Gold — 0 ; Silver — 2 ; Bronze — 0
Diving: Gold — 0 ; Silver — 2 ; Bronze — 1
Equestrian: Gold — 0 ; Silver — 1 ; Bronze — 2
Fencing: Gold — 0 ; Silver — 2 ; Bronze — 2
Field hockey: Gold — 0 ; Silver — 0 ; Bronze — 0
Golf: Gold — 0 ; Silver — 0 ; Bronze — 1
Gymnastics: Gold — 4 ; Silver — 6 ; Bronze — 2
Handball: Gold — 0 ; Silver — 0 ; Bronze — 0
Judo: Gold — 1 ; Silver — 1 ; Bronze — 0
Marathon swimming: Gold — 0 ; Silver — 0 ; Bronze — 0
Modern pentathlon: Gold — 0 ; Silver — 0 ; Bronze — 0
Rhythmic gymnastics: Gold — 0 ; Silver — 0 ; Bronze — 0
Rowing: Gold — 1 ; Silver — 1 ; Bronze — 0
Rugby: Gold — 0 ; Silver — 0 ; Bronze — 0
Sailing: Gold — 0 ; Silver — 0 ; Bronze — 1
Shooting: Gold — 1 ; Silver — 0 ; Bronze — 2
Soccer: Gold — 0 ; Silver — 0 ; Bronze — 0
Swimming: Gold — 16 ; Silver — 8 ; Bronze — 9
Synchronized swimming: Gold — 0 ; Silver — 0 ; Bronze — 0
Table tennis: Gold — 0 ; Silver — 0 ; Bronze — 0
Taekwondo: Gold — 0 ; Silver — 0 ; Bronze — 1
Tennis: Gold — 1 ; Silver — 1 ; Bronze — 1
Track & field: Gold — 13 ; Silver — 10 ; Bronze — 9
Trampoline: Gold — 0 ; Silver — 0 ; Bronze — 0
Triathlon: Gold — 1 ; Silver — 0 ; Bronze — 0
Volleyball: Gold — 0 ; Silver — 0 ; Bronze — 2
Water polo: Gold — 1 ; Silver — 0 ; Bronze — 0
Weightlifting: Gold — 0 ; Silver — 0 ; Bronze — 1
Wrestling: Gold — 2 ; Silver — 0 ; Bronze — 1
Total Medal Count: Gold — 46 ; Silver — 37 ; Bronze — 38
Total Medals Overall: 121