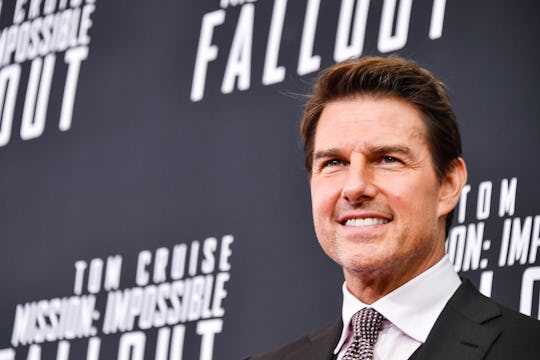 Michael Loccisano/Getty Images Entertainment/Getty Images
The 'Mission: Impossible' Franchise Just Released Its Next Addition
We're on the brink of a new wave of Mission: Impossible fever, that emotion that grips us all when we watch Tom Cruise hang off planes or rocks and think silently, "Wow, I really need to go to the gym." The newest Mission: Impossible film, Fallout, opens in theaters on July 27 and it's a good time to be reminded about how many Mission: Impossible movies there are, and what has led Ethan Hunt up to where moviegoers meet him now.
Fallout is the sixth film in the franchise, according to ScreenRant, and once again it stars Tom Cruise as Hunt, an operative of the Impossible Missions Force (IMF), a clandestine group that periodically tells its spies, "Hey this thing can't be done. Want to go do it?" It's a movie series that has spanned 22 years, though the actual legacy of Mission: Impossible reaches much farther back. The whole storyline was actually birthed from a TV series that ran from 1966 to 1973 and was revived for two seasons in the late 80s, according to IMDb.
The first Mission: Impossible movie landed on screens in 1996 and was largely considered a little confusing, plot-wise, according to Roger Ebert's review on this website. It did its job of setting up the franchise though, and introduced a new generation to Hunt, the IMF, and those rubber masks that have become one of the series weakest tropes.
Mission: Impossible 2, released in 2000, was expected to be a sure thing but, according to Variety, it was a flashy-but-hollow affair that left audiences feeling, well, nothing. Directed by action-expert John Woo the film featured lots of great hand-to-hand combat, but everything about it failed to move viewers.
Still, Hollywood green-lit Mission: Impossible 3 and it was released in 2006, just about the time when Cruise was famously jumping on Oprah's couch, according to The Atlantic. Hunt's character got married in this movie, with is wife played by Michelle Monaghan, who of course promptly got kidnapped and required his spectacular skills to save.
The fourth film in the series, released in 2011, was when they began giving them names, with this one called Mission: Impossible - Ghost Protocol, according to Collider. That referred to Hunt's need to go off the grid and for the IMF to disavow knowledge of him. The fifth movie was Mission: Impossible - Rogue Nation, and was the first to really blend some humor into the action, according to USA Today. The addition of the very funny Simon Pegg may have had something to do with that.
That brings us up to Fallout, in which we'll see several characters returning. Alongside Hunt will be Rebecca Ferguson's Isla Faust, who was a conflicted double-agent in Rogue Nation and Michelle Monaghan will reprise her role as Hunt's wife. Pegg, Alec Baldwin, and Ving Rhames are also back this time, and additional stars include Henry Cavill, Angela Bassett, Vanessa Kirby, and Wes Bentley, according to IMDb.
Early reviews for Fallout seem to be good, with Rotten Tomatoes noting it has a 98 percent fresh rating. In its review, Variety noted this movie makes good on all the buildup of the previous films and, with the addition of Hunt's wife, makes the stakes personal in a new way. (On the down side, the rubber masks are also back.) Perhaps most importantly, the film acknowledges what any aging action star — and their audience — needs to, that we all get older, that we can't keep doing the same thing forever, according to Variety. There's no word from the studios or Cruise that he's hanging up his hat after this turn as Hunt, but even if it is the last time we see him in jet-jumping, rock-hanging mode, he'd apparently be going on out on a high note.
Look for Mission: Impossible - Fallout opening on Friday, July 27.