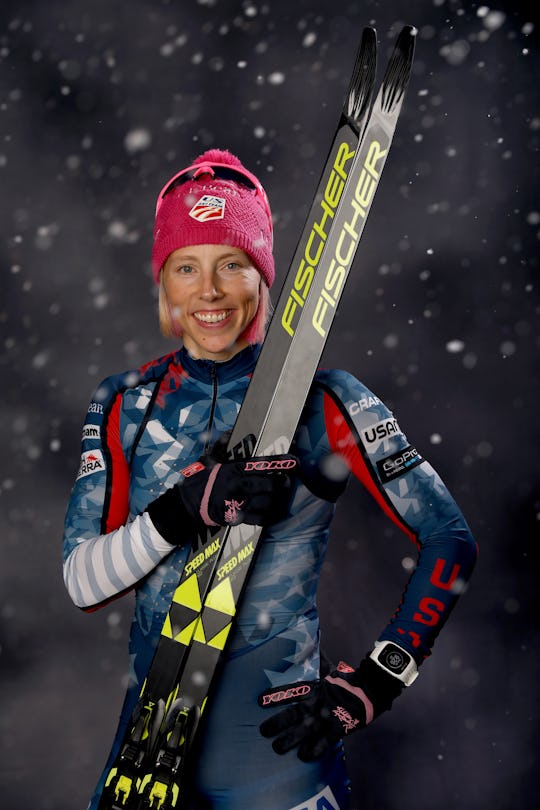 Ezra Shaw/Getty Images Sport/Getty Images
Meet The Badass Mom Representing Team USA In The Winter Olympics
Now that the Super Bowl is over, we can all fully begin to geek out over the Winter Olympics. And yes, that also includes planning your early morning Olympic brunch, because that time difference from South Korea is going to be tricky! But it also means stocking up on team trivia, one of my absolute favorite parts of watching the Olympics. We're adding to your mental library with the answer to this trivia question: How many moms are on the U.S. Olympic team?
If you can believe it, there is only one mom on the U.S. Olympic team this year. There are twenty dads, according to the Team USA site, but only one female parent representing our country is heading to PyeongChang. That one trojan mom is Kikkan Randall, and she is going to kick some butt competing in the cross-country skiing category at her fifth Winter Olympics. She joins only four other athletes who are moms competing in the winter Olympics and Paralympics from all of the countries attending, according to Bustle. Yes, you read that right.
Combining elite-level competition with motherhood is an Olympic feat in itself, and many women choose to retire or are nudged in that direction once they have children. Randall explained to Motto that while her training schedule on this winter's World Cup circuit had to be adjusted, the reward she returned to after putting in hours of hard work is much sweeter: "I didn't always get the recovery time I was accustomed to, but I got to spend a lot of time with my son."
People explained that this will be Randall's first Olympics since welcoming her son, Breck, 21 months ago, with former pro-skier Jeff Ellis. The magazine reported that this will be her last Olympic appearance, as she plans to retire following this year's Winter Games. While she has quite a few World Cup cross country accolades under her belt, including the first ever World Cup victory for an American woman in cross-country in 2008, she has yet to come home with a medal from the Olympics.
As a new mom, Randall has found training for the Olympics more grueling than before, but also more rewarding. She told King5 News, "No matter how the workout or the race goes, when I get to come home to that smiling face, it puts everything in perspective and makes me appreciate everything I get to do." That's something most moms can identify with. For parents, it may be a little bit trickier than it was pre-baby to do the things we love, but kids have a way of providing valuable perspective.
Randall comes by her love of skiing in part through a family history of competing. Her website revealed that several relatives were competitive skiers, and her unusual name was even influenced by Christina "Kiki" Cutter, a World Cup champion alpine skier. When you drag yourself out of bed to watch the Winter Games happening live in South Korea, you'll be easily be able to recognize Randall by her shock of bright pink hair — the athlete's favorite color.
While Team USA is only sending one athlete who is a mom to this year's Olympic Games, mamas aren't always so rare in representing their country. For instance, ten moms competed in Rio de Janeiro for the Summer Olympics in 2016, which is in part due to the much larger pool of athletes who compete in the summer. The Summer Games are roughly five times the size of Winter Games, according to Quora.
However, another major reason there are fewer moms competing in Olympic Games is that fewer women compete in general. There are fewer competitions for women than men, and women have had to petition to have the opportunity to compete in the same sports men already do. "Women ski jumpers petitioned to compete in every Olympics since the 1998 Games in Nagano, Japan," reported Mother Jones, and they were only recently included for the first time in 2014, according to Sports Illustrated.
So here's to the women and moms proving those sexist views wrong, one race at a time. Let's Kikkan some butt!
Check out Romper's new video series, Bearing The Motherload, where disagreeing parents from different sides of an issue sit down with a mediator and talk about how to support (and not judge) each other's parenting perspectives. New episodes air Mondays on Facebook.