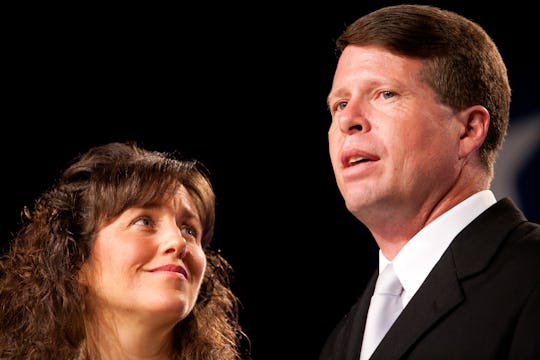 Brendan Hoffman/Getty Images Entertainment/Getty Images
The Duggar Kids Are Grown Up & Having Families Of Their Own
The Duggar family got together over the weekend to celebrate the birthday of one its littlest members. Josh and Anna Duggar's son Marcus turned 4 years old, and by the looks of his grandparents' Instagram posts, he had quite the party. Marcus and his three siblings are also getting ready to welcome a new addition to their growing family later this year. But Josh isn't the only Duggar sibling preparing to welcome a new child: As the older members of the Duggar clan continue to move forward with their lives, it might be easy for fans of the famous family to start losing track of how many of the Duggars have kids of their own now.
Jim Bob and Michelle, the patriarch and matriarch of the Duggar family, have 19 kids between the ages of 29 and just 7 years old. Over the past few years, Jim Bob and Michelle have seen some of their oldest children marry and start their own families, and they've shared the joy they've felt at their children's weddings, as well as the births of their grandchildren, on their social media accounts. And fans of the Duggars are more than happy to stay connected and follow along, sharing in the excitement every time the family welcomes a new addition to their respective households.
Out of Jim Bob and Michelle's 19 kids, Josh, Jessa, and Jill are the only ones who have had their own children. Josh, the eldest Duggar sibling, has 4 kids with his wife Anna (Mackynzie, Michael, Marcus, and Meredith). They announced back in March that they are expecting a baby boy later this year.
Two of the Duggar sisters, Jill and Jessa, have started families of their own, as well. Jill has one son named Israel with husband Derrick Dillard and they are also expecting a baby boy later this year.
Jessa and husband Ben Seewald have two young sons named Spurgeon and Henry.
While Josh, Jessa, and Jill are the only Duggars to have kids right now, a few of their siblings have either recently married or become engaged. Their younger sister Joy-Anna just celebrated her wedding to Austin Forsyth last month, while Jinger Duggar married Jeremy Vuolo in 2016. Their 22-year-old brother Joseph became engaged this past May, as well.
It must be such an exciting time for the Duggar family. Not only are they adding new little ones to the family, but gaining brothers- and sisters-in-law, as well. And that makes for one seriously big, happy family.