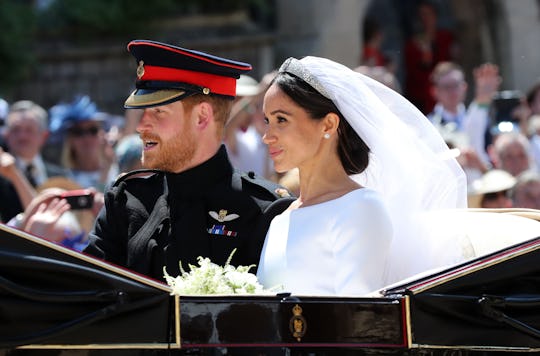 WPA Pool/Getty Images Entertainment/Getty Images
Here's How Many People Actually Showed Up To The Royal Wedding
It goes without saying that royal wedding of Meghan Markle and Prince Harry was a coveted affair that many people would have *loved* to attend. Sadly, however, Markle and Prince Harry couldn't invite every single well-wisher to their nuptials on Saturday. The couple's wedding venue, St George's Chapel at Windsor Castle, has a limited number of seats, after all. That being said, how many lucky people were at the royal wedding? The number might be smaller than you'd expect.
Following the news in November 2017 that Prince Harry proposed to Markle, many supporters wondered where they'd get hitched. The detail was an important one because that dictated how many guests could receive a wedding invitation. Ultimately, Markle and Prince Harry settled on St George's Chapel at Windsor Castle, a stunning piece of architecture that took a whopping 50 years to build, according to CBS News. "Windsor is a very special place for Prince Harry, and he and Ms. Markle have regularly spent time there during the last year," a spokesman for Markle and Prince Harry said about the wedding venue, according to People. "They are delighted that the beautiful grounds of Windsor Castle will be where they begin their lives as a married couple."
As for the logistics of St George's Chapel, the venue can hold approximately 800 guests, according to The Sun. Although that figure might seem like a lot to some people, it's a relatively small number when you consider Prince William, Duke of Cambridge and Catherine, Duchess of Cambridge's wedding venue can fit 2,000 attendees, according to The Telegraph.
Of course, Prince Harry and Markle were under no obligation to fill up the entire chapel with 800 people. And, as it turns out, Meghan and Harry only invited 600 guests to their special day, according to The Cut. So, how many of those 600 guests showed up to the event? It's estimated that about all 600 people attended the church service, according to BBC News.
But wait — before you consider this investigation closed, it's important to take into account all of the people who weren't inside St George's Chapel. Yep, I'm talking about the 2,460 members of the public who who hung out on the grounds of Windsor Castle while Harry and Markle traded vows. "Prince Harry and Ms. Meghan Markle have said they want their Wedding Day to be shaped so as to allow members of the public to feel part of the celebrations too," the palace said in a statement about the extra wedding guests, according to Boston. "This wedding, like all weddings, will be a moment of fun and joy that will reflect the characters and values of the Bride and Groom."
So, while the 2,460 extra guests didn't get the chance to witness the wedding up close, they were technically apart of Meghan and Harry's big day. When you do the math, that means a total of about 3,060 people attended the nuptials. In comparison, about 1,900 people showed up to William and Kate's special day at Westminster Abbey, according to Popsugar. Oh, and if you want a full guide on who attended the royal wedding of April 2011, that's public record. It's a very interesting read, to say the least.
At the end of the day, it's no surprise that Meghan and Harry decided to mix privacy (smallish wedding venue) with an outpouring of love towards their supporters. Although royal weddings can be complicated, it looks like the Meghan and Harry did a nice job of balancing public service with their personal needs. Bravo, Meghan and Harry. Bravo.